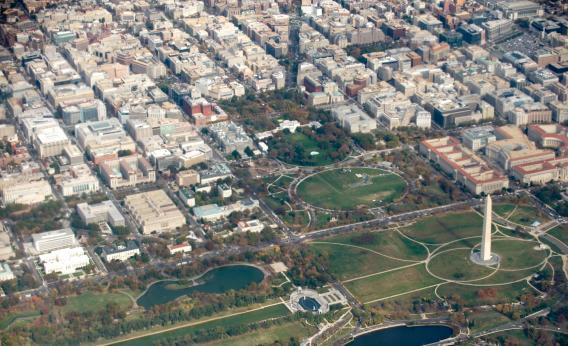 Aaron Weiner did a nice overview recently of where taller buildings might be allowed in the District of Columbia of changes are made to the Height of Buildings Act. Unfortunately, he says the heart of the central business district isn't really under consideration "Which is a shame from an economic standpoint; there's obvious demand there, which has made the city's office rents at times the highest in the country."
That really is a shame, and I think it's worth dwelling on for a while. Some city officials seem to have gotten it into their heads that prohibiting tall structures where demand is highest might have a silver lining because you could then use permission to build skyscrapers as a tool for steering development to blighted areas east of the Anacostia River. I think that's really too clever by half. The best thing you could do for communities east of the river is let office and hotel developers build taller structures where demand is highest—downtown, and along the westward spur of the Red Line. That would lead, first and foremost, to a lot more jobs in the District of Columbia. That's good for people living east of the river because they might get some of those jobs. And more generally, the more jobs and economic opportunities there are located in the city the more desirable all residential portions of the city become to potential commuters.
Then as a secondary consequence, allowing for economically optimal real estate development would mean a lot more tax revenue for the city. That extra revenue could be used to promote development citywide with lower taxes on real estate, retail sales, or restaurant transactions. I'm sort of tempted by the idea of a geographically targeted exemption from sales taxes east of the river. Or revenue can be used to improve the fundamentals in terms of bus service frequency, streetscapes, law enforcement, and so forth in the areas that are most in need.
Now politics is politics and I understand that gleaming 50-storey towers around Farragut Square probably isn't going to happen. But whatever does happen, people should really aim to maximize the value of changes to the whole city economy. Plopping a few random offices towers down in low-demand areas isn going to do less to help economically struggling portion of the city than simply making the downtown core as dynamic as possible. Low-income neighborhoods need money in the city's coffers and they need more employment opportunities. You get that by going where the real estate demand is.

---