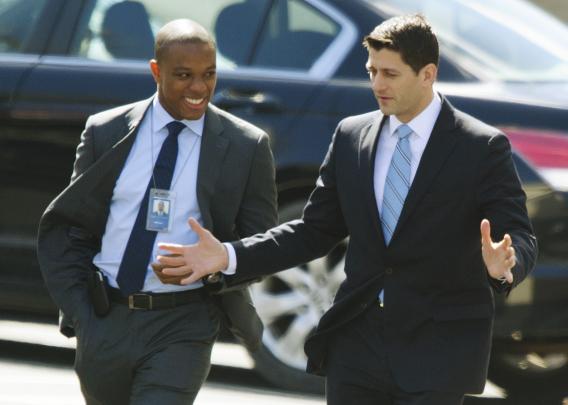 A weird element of the resolution of the debt ceiling fight earlier this year is that Republicans got Democrats to agree to "no budget no pay" rules. Consequently, both Paul Ryan—top budgeteer in the GOP-controlled House of Representatives—and his Senate counterpart, Patty Murray, will be unveiling their budgets this week.
In terms of actual significance of this, it's hard to see much. The Democrats' previous view had been that actually writing and passing a budget would be pointless since anything they passed would be dead on arrival in the House and actual spending levels are determined by bargaining between the White House and the GOP leadership. Turning them around on this is excellent news for policy bloggers, since now this week we'll have not one but two formal policy documents to analyze. But the fact remains that the Senate Democrats will pass something that's dead on arrival in the House, and the House Republicans will pass something that's DOA in the Senate. How DOA are we talking about? Well, Paul Ryan reconfirmed over the weekend that his budget will repeal the Affordable Care Act (even while preserving the ACA Medicare cuts he campaigned against as a vice- presidential candidate), which obviously Democrats aren't going to agree to. Less is known at this point about the Democrats' plan, but Murray's proposal will involve higher taxes on rich people, and we know how Republicans feel about that.
As far as actual policy outcomes go, in other words, expect this to simply reiterate the well-known and long-standing disagreements between the parties.

---