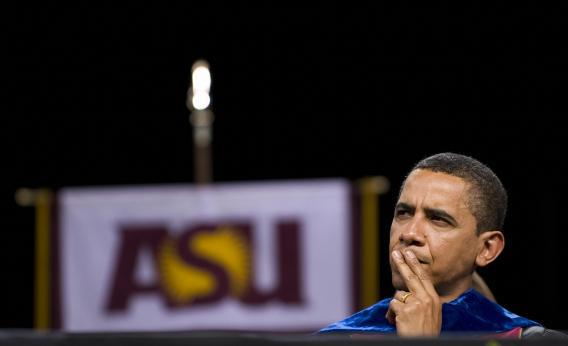 Speaking of the school/internship margin, here's a hot idea from Arizona State University about how to cope with the fact that their law school graduates are heavily indebted and can't get jobs in a weak legal job market:

"I realized that was what we needed," Mr. Sylvester recalled. "A teaching hospital for law school graduates."
The result is a nonprofit law firm that Arizona State is setting up this summer for some of its graduates. Over the next few years, 30 graduates will work under seasoned lawyers and be paid for a wide range of services provided at relatively low cost to the people of Phoenix.
The plan is one of a dozen efforts across the country to address two acute — and seemingly contradictory — problems: heavily indebted law graduates with no clients and a vast number of Americans unable to afford a lawyer.
Now there are some larger structural issues in the legal marketplace. But, again, getting a JD at ASU costs between $47,000 and $62,000 a year for three years. A program where a college graduate with a decent LSAT score could spend four years working for free at a law firm in order to gain skills, experience, and connections seems like it would be a much better deal. But you'd need a way to eat and pay the rent. And you can get loans for law school. What's more, law unlike journalism is a licensed profession. Suits aside, if you want to be a lawyer you need to go to law school. And running a law school is such a lucrative business that as demand for lawyers dries up, it makes sense for ASU to operate a law firm as a loss-leader for the law school.
---