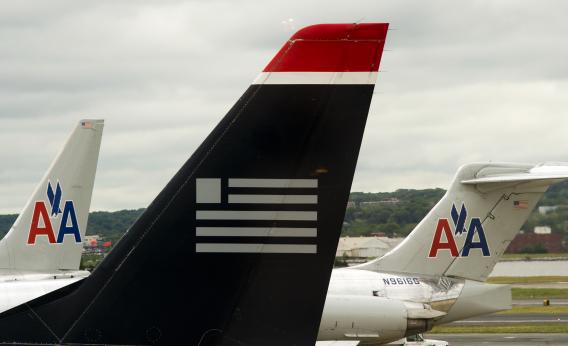 US Airways and American Airlines formally agreed to merge last night. The merged company will be run by US Airways' CEO, but will be called American Airlines. US Airways shareholders own 28 percent of the company with the rest basically owned by the creditors of the bankrupt American.
Some winners from the arrangement:
Doug Parker: This is a triumph for US Airways CEO Doug Parker. Way back in September 2001 he was CEO of the relatively small and obscure America West airlines. But he took advantage of the post-9/11 wreckage of the industry to boostrap his way up the food chain by merging with the larger-but-financially-troubled US Airways and become CEO of a combined entity. Now US Airways is merging with the larger-but-financially-troubled American, and he'll be CEO of the combined entity. In a span of about a dozen years he's gone from CEO of what amounted to a regional airline to CEO of the largest airline in the world. Good for you ego, and since CEOs get paid more when they make their company bigger it's good for his wallet.
American Airlines labor unions: A union never really "wins" in a bankruptcy—a big part of the point of bankruptcy of a unionized company is to force labor to share in the losses—but this is labor's preferred outcome. Parker courted American's unions, offering them a relatively generous deal in the context of a merger compared to what American was trying to get them to eat as a solo company. And it worked. Labor campaigned for the deal, and eventually American management's preference for reorganizing without merging became untenable.
Fort Worth, TX: It's not good news for your city when one of your signature firms goes bankrupt. But the decision to call the new airline American Airlines and keep its headquarters in Fort Worth is great news for the city and for DFW airport. Where it looked like there was a risk of job losses, there's instead going to be a gain as the Metroplex becomes the home base for the world's new largest airline.

Losers:
Tom Horton: American's CEO really wanted to resolve bankruptcy without agreeing to a marger, a scenario in which airline executives typically emerge with lots of stock in their pocket. He's being given a temporary position as Chairman of the new company, but that's clearly a "kicked upstairs" move. You probably wish you could get fired in such a generous and lucrative way and, indeed, it's good to be the CEO of a major American company. But as far as plausible bankruptcy outcomes go, this is a bad one for him.
Phoenix, AZ: Phoenix is losing its US Airways corporate headquarters. That's bad. It's also likely to lose its status as a big-time airline hub. Management says that's not the case, but management always says that's not the case. When Continental and United merged, that led to a big decline in the Cleveland hub. When Delta and Northwest merged, that led to a big decline in the Memphis hub. Phoenix is growing much faster as a city than Cleveland so the situation isn't precisely analogous, but the smaller hub is basically destined to lose out. The combined airline is going to have hubs in Dallas, Phoenix, and Los Angeles—too many so close together. DFW will be the company's home base, and Los Angeles is the number two city in the country. Phoenix is going to lose out.
Star Alliance fliers who live in Washington, DC: People like me have benefitted from the fact that United (the main airline at Washington Dulles Airport) and US Airways (the main airline at Washington Reagan National Airport) are in the same airline alliance. That's meant that no matter where you fly or which airline you fly out of, you get your miles. But the merged entity will leave the Star Alliance in favor of OneWorld creating divided loyalties.

For consumers as a whole it's an ambiguous result. The pre-consolidation outcome in which there was tons of airline competition and all the airlines were losing money constantly was obviously ideal. Now that Delta and Northwest have merged, United and Continental have merged, Southwest and AirTran have merged, and US Airways and American have merged we have many fewer carriers and less competition. But the "everyone loses money constantly" outcome had an obvious stability problem. US Airways and American merging to create four robust big nationwide airlines along with a few regional players is probably better than two big airlines, a few regional players, and two trapped in-between and constantly at risk of going bust.

---