One afternoon last fall in New York, walking toward the subway at Union Square, I decided to lose the tortilla.
For months, Taco Bell had been urging America to drop by for a taste of its Cantina Bell menu. TV commercials featured celebrity spokeschef Lorena Garcia touring dewy fields of cilantro and welcoming viewers into a kitchen where she and her associates lovingly ladled black beans over rice. She laid oblong medallions of grilled chicken atop beds of romaine lettuce, roasted corn, and vermilion slivers of pepper and tomato. "Making a burrito bowl, I think, made Taco Bell a little bit nervous—mostly because they're used to wrapping everything in a tortilla," Garcia explains in one spot. "But I said, 'Guys, lose the tortilla and share these beautiful ingredients with the world.' "
"Beautiful ingredients" aren't the first things one associates with Taco Bell, a chain that last year enjoyed record-shattering success with its Doritos Locos Taco, a $1.29 fistful of garbage dusted in neon-orange sodium that tasted vaguely like cheese and synergy. They certainly weren't the first things I saw when I sat down with my Cantina Bowl, from which pale green guacamole and a lumpy tuft of grated Monterey Jack stared back at me from a valley of rice, romaine, and meat as if to croak, "Ta-daaaahhh."
Yet despite its unremarkable appearance, the Cantina Bowl was remarkable for what it signified. It was a shot across the bow to competitors like Chipotle, a company that had based nearly two decades of rapid growth on wholesome, sustainably raised ingredients prepared in-store before Taco Bell ever enlisted Chef Garcia for an offensive of its own.
In essence, it was the latest salvo in the Fresh Wars.
The Fresh Wars have advertisers, marketers, and chefs embroiled in a battle for the title of freshest American fast food—and for the business of an increasingly sophisticated and conscientious populace of eaters. Taco Bell vs. Chipotle is just the start. The tagline "Eat Fresh" has helped Subway eclipse McDonald's as the world's largest fast-food chain. But Arby's crusade to "Slice Up the Truth About Freshness" aims to sow doubts about Subway's food sourcing while wooing customers with meat sliced on-premises. Meanwhile, Domino's Pizza has spent more than three years and untold millions reinventing its pizza and its image as models of quality and transparency, a gambit that has at least two high-profile competitors following suit.
The skirmishes emphasize the extraordinary value of one abstract concept for an industry desperate to capitalize on health and sourcing trends without actually having to invest in high-quality ingredients. Fresh doesn't have to be low-calorie or even especially nutritious—a burrito with ingredients prepared on-site at Chipotle may pack three times the calories of a burger. Nor does fresh require pathologically locavorian supply-chain standards: As Arby's has revealed, a sandwich from Subway might contain cold-cuts processed, packaged, and shipped from a centralized facility in Iowa. Better yet for retailers like Taco Bell, Domino's, and Arby's, the mere implications of freshness can be sold at a premium to new customers who otherwise might have avoided those chains' wares altogether. The only unabashedly pure thing about the concept of fresh is its subjectivity.
"I think it's meaningless, almost, now," says Mark Crumpacker, the chief marketing officer with Chipotle. "You could claim that something very heavily processed was fresh, I guess. I don't think there are any rules around 'fresh.' You can just say it with impunity. And I think lots of people do."
So maybe "Is it fresh?" isn't the question we should be asking ourselves as we lose the tortilla, slice up freshness, and muddle through the trenches of fast-food trends. Instead, amid the varying strategies, we have a much more basic and far more crucial determination to make: What does fresh even mean?
***
Most of us can probably agree that the concept of fresh, in its quintessence, implies a meal or ingredient consumed as few degrees removed from its source as possible. Believe it or not, such a common-sense definition of fresh once actually existed in the fast-food marketplace, at Taco Bell in the late 1970s, when it had a few hundred restaurants nationwide and was known as the Fresh Food Place:
You can find sentimental Taco Bell consumers and employees from this era around the Web recounting the Fresh Food Place's qualifications with pride: Ground beef arrived at stores daily, unfrozen. Lettuce, tomatoes and onions were cleaned and chopped up on site. Cheese was grated and tortillas fried into taco shells each morning. Refried beans were prepared in store from whole pinto beans also delivered daily. (One Taco Bell alum cites a hazing ritual in which new employees would be assigned to "count the beans that went into each batch.") Thirty years ago, it seems, fresh actually meant the same thing in commercials as it does in dictionaries.
Today, the fast-food universe's usage of fresh has nothing to do with the textbook definition of the word. In most ways, fresh has nothing to do with food at all. It's become a convolution, tied up with manufactured images of authenticity, transparency, and even morality—the fleeting ecstasy of doing what consumers are persuaded to believe is the good, right thing.
"I do think it's a powerful word," says Rob Reilly. As the chief creative officer for the Miami-based ad agency Crispin Porter + Bogusky, Reilly has helped oversee the fresh-ening of the Arby's and Domino's brands over the last three years.* In both chains' campaigns, the fresh concept has roots in what Reilly calls an "undeniable truth."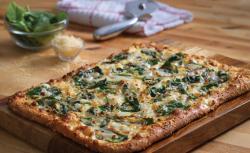 For Domino's, this "undeniable truth" meant a very public soul-searching—drawing from a deep well of misgivings sourced straight from their consumers, who, urged on via Domino's own social-media outlets, gave the chain high marks for value and convenience while using epithets like "cardboard" to describe its pizza's taste. The company invited Henry Alex Rubin, the co-director of the Oscar-nominated documentary Murderball, to its Ann Arbor, Mich., headquarters to film Domino's CEO J. Patrick Doyle and other real employees walking us through a retooling of their inferior pizza. Later, as the campaign proceeded with Domino's new "Oh Yes We Did" tagline, another TV spot featured a focus group sequestered in a room whose walls fall away to expose a farm from which Domino's sources tomatoes for its sauce. "This is all grown right here in California," the farmer explains.
The reboot of Domino's as a self-effacing, transparent, and wholesome pizza monolith with an interest in ingredient quality was an unmitigated triumph. It proved irresistible to consumers and investors alike, stoking a 13.4 percent increase in same-store sales between 2009 and 2011 and a five-fold stock-price increase by the end of 2012.
More importantly, it triggered industry awareness of being fresh without necessarily being fresh. Today, the competition looks to Domino's carefully stage-managed farm-to-kitchen showcase of dough, cheese, and produce (I mean, the conventional marketing wisdom literally breaks down in the middle of a tomato field) as fresh benchmarks: Sbarro, the national chain still regaining its footing a year after emerging from Chapter 11, has introduced its own new pizza recipe (to wit, "all-natural ingredients, including dough made from scratch daily, vine-ripened, whole-peeled tomatoes and freshly shredded whole-milk mozzarella") and, also like Domino's, plans remodeled locations emphasizing "open-flame ovens and a made-to-order pasta station." In Canada, McDonald's has undertaken "Our Food, Your Questions," a Domino's-style transparency campaign offering answers to customers' hard ("How do you process your chicken?") and not-so-hard ("Is there an anti-vomit in the McDonald [sic] food?") queries.
All of these initiatives convey the reassuring message of having nothing to hide—the radical, post-Fast Food Nation idea that knowing your meal's provenance matters and that a restaurant should not only share this provenance but stake its entire public persona on it. Such openness, however slick or calculated, is at the heart of fresh.
In spring 2012, the Arby's braintrust, led by new chief marketing officer Russ Klein, came to approach Crispin Porter + Bogusky about an even more bracing fresh gambit: a direct offensive against Subway. Though Klein liked the Domino's campaign and the "undeniable truth" concept evangelized by Reilly, Arby's didn't have the time, budget, or inclination to embark on a wholesale, Domino's-style reinvention. Instead, Klein and Reilly had a puzzle to solve: Subway implores customers to "Eat Fresh," skillfully implying that its competitors are not fresh. But what if Arby's is actually the fresh one, and Subway is just a poseur?
The answer meant going hyper-specific—choosing one aspect of the product in which Arby's excelled, and relentlessly hammering the importance of that aspect as fresh-er than the competition. "They say, 'Eat Fresh,' " Reilly notes. "They talk a lot about bread [being] freshly prepared, and the vegetables are fresh. For us, the Arby's story—the taste story—came from the fact that we believed the meat was the most important part of the sandwich."
That belief fueled Arby's ongoing efforts to "slice up the truth about freshness," a scorched-earth crusade that flips popular conceptions of provenance and openness on their heads. The chain has sought to burnish its fresh credentials by spotlighting the cracks in Subway's own—and sending the message that even though Subway sandwiches are made to order in front of your eyes, Subway still has plenty to hide. If contemporary consumers wanted transparency, then Arby's would heap it on them: The centerpiece of the campaign features Bo Dietl, the ex-cop-turned-private detective/media personality, on a gonzo, documentary-style quest (directed by Borat filmmaker Larry Charles) to find out where Subway slices its sandwich meats. The commercial chronicling Dietl's journey climaxes at the driveway of West Liberty Foods, a processing plant in West Liberty, Iowa. "After all that," Dietl says in the in the spot, "this is where Subway slices the meat. That's a long walk for a turkey sandwich."
There, as Dietl later recounted to me on a conference call with Klein and other Arby's brass, he interviewed workers and "jumped on trucks that were leaving there," all in pursuit of some deeper truth about freshness. "I was asking what they had there," Dietl continued. "And I said, 'Would you eat at Subway?' They said, 'Hell, no.' And it was just these little things that came up in the investigation when we were filming it."
It's hard to ignore a few other truths, though: That Dietl is a mercenary, and that his spirited investigative exposé is just a commercial—one whose implication that West Liberty Foods is not fresh prompted the threat of an Iowa-wide Arby's boycott (and an eventual Arby's apology). Moreover, Arby's has its own centralized facilities that process and freeze Arby's meat, which is then shipped to—and eventually cooked and sliced in—its restaurants around the country. It's a supply-chain necessity that doesn't exactly scream fresh–but according to Klein, it's not a salient point. "For us," he said, "it really simplifies down around the fact that we slice fresh. They don't. You choose."
***
Like Arby's, Taco Bell had a clear opponent in the Fresh Wars. But where Arby's challenged its rival's fresh credentials, Taco Bell imitated them.
A generation after it was known as the Fresh Food Place, Taco Bell's reputation for freshness was long gone. Drive-thrus, late-night hours, and such punctuation-challenged initiatives as a "Why Pay More!" menu had traded the fresh imperative for one of value and volume. It was a perfectly viable model in the '80s, and one that leaders around the industry refined to a science. That was before an increasingly congested fast-food market, diminishing profit margins, and growing levels of consumer sophistication dented bottom lines throughout the industry.
"I think what we're seeing is that consumers in general are moving away from what we call 'food as fuel,' " says Ellie Doty, a senior marketing manager with Taco Bell. Now, she says, "food is experience."
Indeed, it was a focus on experience that helped ignite the swift rise of Chipotle. The Mexican chain got its start when a classically trained chef named Steve Ells began expanding his Denver-based Chipotle Mexican Grill into a nationwide brand in the early '90s. Chipotle's emphasis on naturally raised meats grilled in-store and burritos made to order in front of customers gained traction opposite the mass-produced fare offered at Taco Bell. To that end, Chipotle also benefited further from a focus on morality in fast-food—or at least selling morality: With its "Food With Integrity" message, Chipotle recognized a feel-good niche that facilitated a higher price point. This established Chipotle as a forerunner of what would become the "fast-casual" movement: The sweet spot between full-service and quick-service dining, with high-quality meals fashioned while you wait.
To Doty and other Taco Bell execs, Chipotle wasn't competition per se. However, the fast-casual concept signaled a new frontier of market-share with potentially higher profit margins than those accompanying Taco Bell's value staples. The catch was in the image: How could Taco Bell, the inventor of the fat-laden "FourthMeal," hope to gain ground on an all-natural juggernaut like Chipotle?
Simple: Bring in a chef and call it fresh. 
As Fresh Wars strategy goes, there's no questioning the genius of enlisting Lorena Garcia. The Miami-based restaurateur and TV chef (Top Chef Masters) brought more than a patina of cultural authenticity to a brand whose last remotely Latin American ambassador was a Chihuahua renowned for lustily incanting, "Yo quiero Taco Bell." She brought more than camera-ready ebullience and knifework, which easily overshadowed the fine print accompanying her commercial: "Professional test kitchen shows featured ingredients, not actual preparation." Yes, Garcia's cilantro-field tour channeled the fresh-friendly spirit of transparency that recently succeeded in spots for Domino's and McDonald's, both of which guided prospective customers through fields and kitchens to meet some of their food's producers. But what Garcia and her menu immediately gave Taco Bell was something even more crucial: A budget version of the lunch you'd get at Chipotle. At a drive-thru if you'd prefer.
Of course, none of this necessarily shortened Taco Bell's supply chain from farm to table (Doty estimates that the romaine in my Cantina Bowl takes roughly a week to travel from field to store) or introduced naturally raised chicken to its menu offerings. But the re-fresh-ening of Taco Bell galvanized at least one influential Fresh Wars observer: David Einhorn, the Greenlight Capital hedge-fund president and short-sale whiz who made his name (and his fortune) exposing the fallibility of companies like Lehman Brothers, told a conference of investors in October that his faith in Cantina Bell had led him to bet against Chipotle.
"He even beckoned a room full of analysts, traders and journalists to go to the nearest Taco Bell and see why Cantina Bowls spell Chipotle's stock demise," wrote one conference attendee, citing a Greenlight survey in which the majority of respondents "saw little distinction between the two chains." Chipotle's once-surging stock price, which had already endured a downswing of more than 27 percent since its all-time high in April, plunged another 9 percent in one day of heavy trading following Einhorn's pronouncement.
A little more than a month later, I met Chipotle's marketing boss Crumpacker in his company's New York City offices. He patted the top of a conference table, shrugged, sighed and confessed: "If I were Taco Bell, I probably would have done the same thing." Crumpacker went on to note that the Fresh Wars are a byproduct of more than just an increased focus on sourcing, openness, and ingredients. They reflect the fundamental reality that there are only so many consumers to go around. Chains like Taco Bell, Arby's and now Chipotle—which had almost two decades to itself as a bellwether of fresh standards and practices in fast food—have to take sales from other chains. They have to wrest sales from other chains. "That's the only way it works," he said.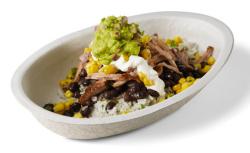 Chipotle's own fresh stratagem is perhaps the most constrictive in the game, reflecting a grown-up, sophisticated model of morality that puts it (almost) above the fray. With its emphasis on ingredients, preparation, and narrowing the distance between farm and table, Chipotle has invested its ad dollars most significantly in winning the hearts and minds of the kind of people who read Michael Pollan. The company has introduced fresh-inflected initiatives like its Farmer's Market tours and Cultivate festivals, which bring chefs, farmers, casual foodies, hardcore locavores, musicians, and artists together in a celebration of sustainable, locally produced food. Most notably, its video spot "Back to the Start," featuring the tear-jerking catharsis of Willie Nelson covering a Coldplay song over a factory pig farmer's animated epiphany, had gone viral well before it ever aired during the 2011 Grammys—a broadcast marking Chipotle's first and only TV ad to date. Like other freshness marketing tactics, "Back to the Start" purports to tell a "real story," this one inspired by Russ Kremer, a Missouri hog farmer who nearly died 20 years ago after he was gored by one of his antibiotic-treated boars. After fighting off a stubbornly drug-resistant infection, Kremer swore off antibiotics and hormones in favor of naturally raised livestock.
In truth, "Back to The Start" isn't Chipotle's real story any more than Lorena Garcia's kitchen is Taco Bell's real story or Bo Dietl's meat-investigation exploits are Arby's real story. It's just another narrative co-opted by a publicly traded corporation and targeted at the American aspiration for identity and connection and improvement. The video's admonition to "Cultivate a Better World" sounds to a close observer of the Fresh Wars like a shrewd excuse for the higher cost of Chipotle's offerings.
But Chipotle, which sells the closest thing to actually fresh food in the modern marketplace, thinks quality will trump all. "More than anything," Crumpacker says, "we're banking on the fact that people want something that tastes better. And what we're doing does taste better. David Einhorn can say it doesn't, but I think most people would say that ours tastes better."
Does it? As I sit in the Taco Bell near Union Square scowling at my Cantina Bowl, with tourists and college kids gorging on Doritos Locos Tacos and XXL Nachos on either side of me, I realize that the Fresh Wars will last only as long as consumers are willing to give claims of freshness and all its associated qualities—transparency, truth, cultural authenticity, morality, and taste—the benefit of the doubt.
As I lift my fork, though, I wonder if these "beautiful ingredients" before me were really worth losing the tortilla—or worth wading into the Fresh Wars at all. There's only one way to find out.
*Correction, Feb. 11, 2013: This article originally described Rob Reilly as the creative director of Crispin Porter + Bogusky. His title is partner/worldwide chief creative officer.