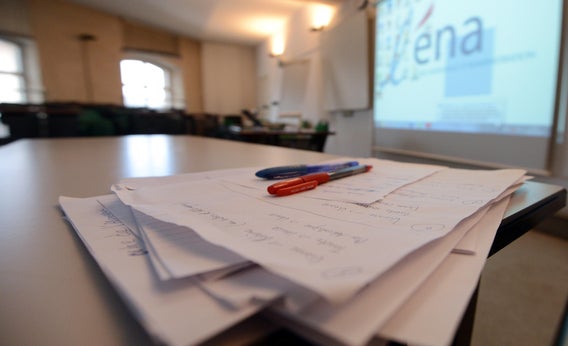 Office Depot and Office Max are lucky to have each other. Uniting the U.S. purveyors of pens, paper clips and printer toner is about as obvious as it gets in M&A. The potential synergies could be worth more than the market value of the two companies combined. As the internet ravishes retail, at least this corner can cling to life by merger.
Consolidation is overdue. The encroaching power of the likes of Amazon and Target has been evident for years. Office Depot and Office Max are also good partners. Plenty of nearby stores could be closed and their own suppliers squeezed. Based on past deals, savings of about 2.6 percent of revenue, or some $450 million a year in this case, look realistic, Sanford Bernstein analysts wrote in a prescient note on Friday, ahead of weekend reports of the two companies being in talks.
These costs cuts, taxed and capitalized, would be worth $3 billion to shareholders. That's an impressive sum given the two companies were only worth around $2.1 billion combined before the merger talks were reported. Investors initially added another $400 million on Tuesday as they anticipate details on a possible all-sharer combination.
Office Max is on target to generate a net margin of just 0.9 percent in 2013, according to the average estimates of analysts collected by Thomas Reuters. Office Depot is seen struggling to eke into positive territory. Revenue at the top three chains is forecast to stagnate, but online competition could be harsher as other specialty retailers like Blockbuster, Circuit City and Borders learned. While Office Max and Office Depot might together slow the decline, their industry is still bound to die a death of a thousand paper cuts.
Read more at Reuters Breakingviews.
---