Chinese wages have been rising quite a bit over the past five to t0 years, meaning it's no longer the cheap labor opportunity for factory owners that it once was. The Wall Street Journal reports that foreign direct investment in China is now falling as a result even as it skyrockets elsewhere in Asia: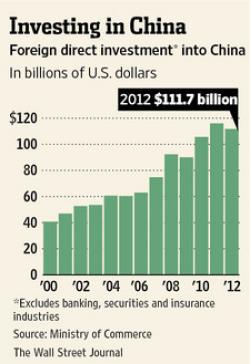 But it also is the result of a long-term trend of rising wages and other costs that have made China less attractive, especially for basic manufacturing. By contrast, foreign direct investment into Thailand surged by about 63% in 2012, and Indonesia's was up 27% in the first nine months of last year.
Coronet SpA, an Italian maker of synthetic leather with production in the southern Chinese province of Guangdong, plans a new factory in Vietnam to take advantage of lower labor costs and to be closer to its customers in the shoe and handbag businesses, many of which have already moved there.
This sometimes gets framed as a story that's primarily about slowing growth in China, but this is definitely a context where levels matter more than rates. On the one hand, Chinese wages and living standards are a lot higher than they were in the recent past. On the other hand, Thailand and Indonesia are gaining some new economic opportunities. Despite the very severe economic problems in the United States, Europe, Japan, and the United Kingdom, we're living through what are really the best of times for the world economy taken as a whole.
---