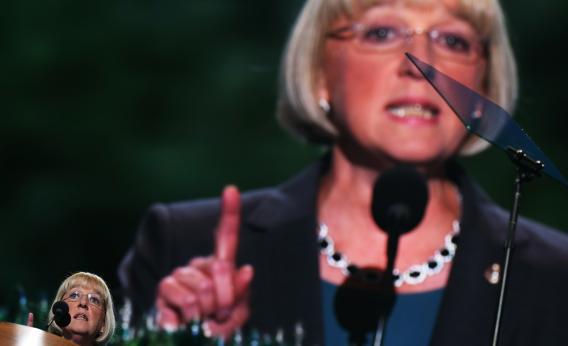 Sen. Patty Murray, D-Wash., the new chair of the Budget Committee is, rightly I think, out this morning with a statement saying that she thinks the Senate should pass a budget regardless of whether or not House Republicans tie a gimmicky and possibly unconstitutional "no budget, no pay" rule to whatever they do on the debt ceiling. Murray's statement goes on at length castigating Republicans for handling budgetary matters outside the regular budget process with their various hostage-taking gambits, and concludes with her saying:
Senate Democrats plan to move on a budget resolution regardless of whether the House rolls this issue into their short-term bill to increase the debt limit. I am ready to get to work with my colleagues on the Budget Committee and I look forward to fighting for middle-class budget values and priorities in a conference with Chairman Ryan and the House.

Now to an extent this is easy for her to say. The Budget Committee is her committee, so going through the budget process is good for her. And the concern among Senate Democrats about writing a budget was a concern about the more marginal members, not about veteran incumbents from the Pacific Northwest. But the basic point is that in a battle of budget versus budget, the Democrats are going to have the budget that doesn't involve politically unpopular Medicare privatization initiatives, and they're reasonably happy to fight on those grounds.

---