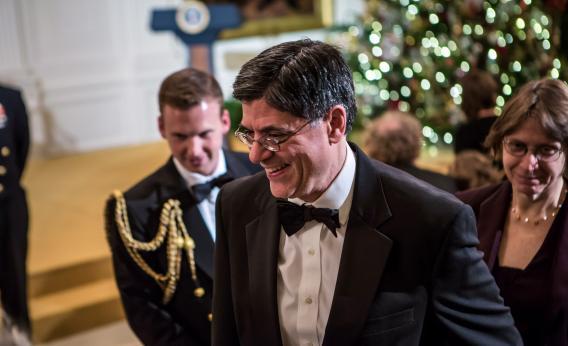 As I wrote back in November, chief of staff Jack Lew is going to be the next Treasury Secretary. He has expertise in the thing Obama thinks the next Treasury Secretary needs expertise in (budget matters), Obama likes working with him (which is important, because he and Tim Geithner had a strong rapport and some random outsider can't fill that role), and nobody sticks around in the chief of staff job for that long so unless Lew gets a cabinet job he'll end up burning out and quitting. But Manu Rahu writes for Politico that Lew "has a contentious relationship with some Senate Republicans who are scoffing at reports that he's poised to get the nomination for one of the most important posts in government."
Josh Marshall counter-scoffs on the grounds that Republicans lost the Senate elections and don't have the votes to stop Lew, but I'm not entirely sure that's right.
Every tradition in the book says a minority of 45 Senators won't just filibuster a cabinet appointment because they happen to dislike the guy. But the current state of filibustering in the United States Senate isn't ratified by tradition either. As recently as 2003, Senate Republicans were able to pass a major Medicare reform with more than fifty but fewer than sixty votes in part because filibustering conference reports was against tradition. Filibustering circuit court nominees wasn't traditional until Bush-era Democrats started doing it. Now both of those traditions are out the window, and there's no guarantee that the traditions against filubustering cabinet secretaries and Supreme Court justices will hold up. If anything, my view is that this is a slope that eventually has to slip all the way.
Now is Jack Lew going to be the issue that breaks this norm? Maybe not. Certainly it will make the GOP look silly if they choose this particular hill to fight on—Lew is mild-mannered, well-respected, and clearly qualified—but we're living in an era of norm-breaking, so don't be shocked if it happens.
---