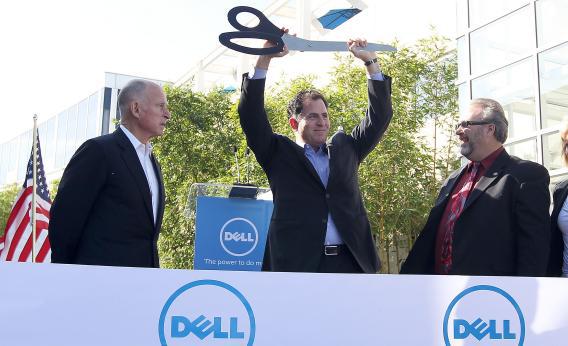 Shares in Dell have lost about a quarter of their value this year as the whole PC industry looks to be in decline and entrants from China grab up a larger share of a smaller market. But Dell's CEO, Michael Dell, owns just over 15 percent of the company, and the firm itself has $5.15 billion on hand, so it's natural that he's at least exploring leveraged buyout options that would take the company private and let Dell and whatever co-investors he finds fully extract the considerable cash flows that are still associated with the company.
There is, of course, a certain irony here that it was just about 15 years ago that Michael Dell offered the following advice to Apple's management:

"What would I do? I'd shut it down and give the money back to the shareholders," Michael Dell said before a crowd of several thousand IT executives. […]

But others, like Dell, appear to think that Jobs's expanded role isn't helping. There is some concern that Apple will have a hard time recruiting a top-notch CEO because of Jobs's presence.
For all of Dell's recent troubles, shares in the firm are up 686 percent since he said that in the fall of 1997. The company's price is well below where it was in the recent past and way below its tech bubble peak, but it's still worth a lot more than it was in 1997. On the other hand, Apple's stock is up 37,761 percent since that time, so any shareholders who got their money back would be none too pleased with the outcome.

---