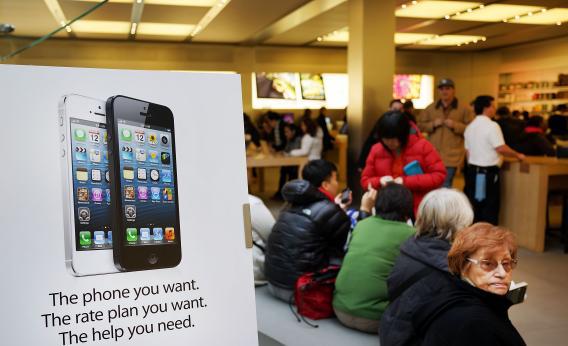 I've noted before that the smartphone platform wars have taken on much of the same tone as partisan politics, and you can very much see that on display in the reaction to a Wall Street Journal story saying Apple's cutting orders of iPhone 5 components on weaker-than-expected sales. The Apple blogosphere rapidly mounted the barricades with an effort to poke holes in the Journal's reporting, with some suggesting that the paper has been deliberately fed bad news by stock manipulators.
And maybe they were! Apple shares, which have been on a downward slide since the disappointment of iOS 6 Maps, took a big fall in response to the story and are now trading below $500.
But it's of course also possible that Apple is cutting orders of iPhone 5 components due to weaker-than-expected sales. Apple had such an amazing run from the introduction of the iPhone to the death of Steve Jobs that it's easy to lose sight of the fact that a company that correctly estimates demand for its new products (on average) will overshoot exactly one-half of the time. People became accustomed to living in a world where the only limit on iPhone sales was Apple's logistical capacity to produce them, but they've obviously done a great deal to improve their product ramp. Once your capacity to build is in place, you run the risk of overshooting like this. It's not such a crazy notion.

---