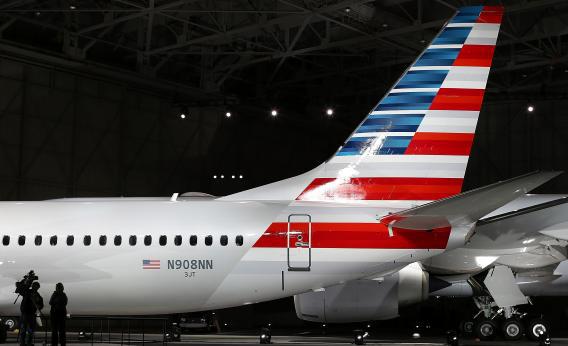 The travails of American Airlines have been covered fairly extensively on this blog, and I'm happy to report that for now the situation with the pilots is under control. That said, it continues to be the case that the bankrupt airline's management is showing an irrational level of resistence to the sensible option of merging with US Airways. I'm not certain that would be a sensible business move for US Airways, but it's something US Airways wants to do, it's something American's unions want to do, and it would certainly put American in a stronger financial position.

But it would entail some American executives losing their jobs and losing a substantial financial upside if they emerge from bankruptcy solo so instead they're focused on changing the logos on their fleet of planes:
"A new paint job is fine but it does not fix American's network deficiencies and toxic culture, so we continue our steadfast support of a merger with US Airways and not doubling down on the network strategy that brought us into bankruptcy," said Dennis Tajer, spokesman for the Allied Pilots Association.
In a prepared statement, spokeswoman Leslie Mayo of the Association of Professional Flight Attendants said, "We hope this re-branding is the first of many steps toward making American Airlines a company that we can be proud to work for and one that can grow and compete in today's marketplace. That can only happen with a merger inside bankruptcy. "
Of course on one level the paint issue is simply irrelevant. But on another level it's symbolic of management's refusal to consider a merger, since if American is acquired by US Airways there will presumably have to be another round of repainting.
---