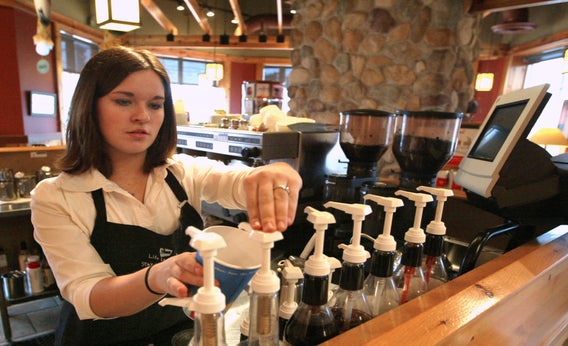 Most of our basic economic statistics were developed during the high tide of the industrial age, so a lot of our thinking about them stems from a mental imagine of a factory. Thus a factory with "high productivity" is one where the workers have lots of very impressive machines and the skills to operate them, thus letting a relatively small workforce produce lots of very valuable goods.
But these days few people work in factory settings and the dynamics in more modern workplaces can be different.
For example, I went to work today as did two other people in my office. That's not very many people. And it was clear when I ducked into the Cosi downstairs that it's the same all across this neighborhood. A very large share of the office workforce isn't in today. That meant that the productivity of the Cosi workforce has cratered relative to what I'm used to seeing. At what would normally be a very busy time there was lots of standing around doing nothing simply because there were no customers.

That kind of minor seasonality isn't a big deal, but the basic dynamic that the productivity of the retail sector depends more on demand conditions than on the presence of skills or capital equipment has a broader relevance. One point is that a mixed-use neighborhood that has both weekday breakfast/lunch and also dinner/weekend customers is going to feature more productive restaurants than a single-use neighborhood. But as I argue in The Rent Is Too Damn High the density of a given neighborhood will also impact the productivity of labor. Some people like Starbucks more than Caribou Coffee while others prefer Caribou. There are plenty of neighborhoods where an outlet of either could thrive. But in a dense neighborhood it might be possible for one of each to exist in which case all customers can be optimally matched with the coffee chain they prefer. That environment leads to a more productive workforce even if nothing about the workers or the workplaces is in any way different. It's just that for a Caribou Coffee to be all that it can be it needs an adequate intake pool of people who authentically prefer its coffee to Starbucks' coffee.

---