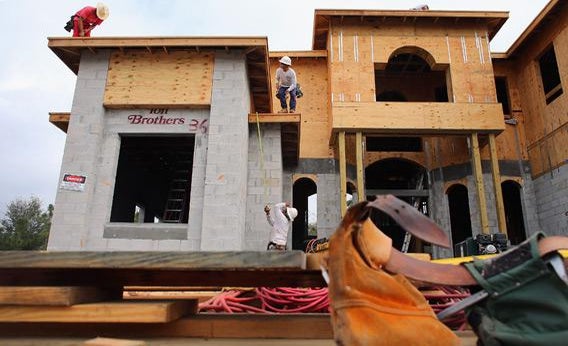 Last year's profile of the best-performing stocks in the S&P 500 was a depressing read full of mining concerns, discount stores, and credit-card companies trading up on regulatory favors. This year's list is a more optimistic, more diverse collection, not least because the market as a whole did much better. Cabot Oil & Gas topped last year's list at 107 percent growth, which would only be good for fourth place this time around. Visa's 43.19 percent growth last year wouldn't have made the top 40 this time around. Corporate America, in other words, had a much stronger run in 2012. These are the companies you wish you'd bought last Christmas:
1. Sprint Nextel
Opening price: $2.34. Dec. 26 price: $5.56.
Growth: 138 percent
The extraordinary performance of the third banana of American wireless telephony was less about anything Sprint did than about Japanese telecom giant SoftBank's decision to purchase 70 percent of the outstanding shares for $20.1 billion. Conventional wisdom panned the move as ego-driven and doomed to failure, and I have no contrarian Slate-y rebuttal, but as a citizen, it's good to know that when rich Japanese egomaniacs want to make a foolish investment, they still think of America as the place to do it.
2. PulteGroup
Opening price: $6.37. Dec. 26 price: $13.37.
Growth: 110 percent
This isn't a household name, but as a major homebuilder, the PulteGroup is a decent bellwether for the American economy. Construction activity closed 2012 at what's still a very low level by historical standards, but it's way up from where it was a year ago. After years of stagnation, we're back to adding houses faster than we add people—meaning folks are finally moving out from their parents' basement or their sister's spare room.
3. Whirlpool Corporation
Opening price: $48.51. Dec. 26 price: $99.74.
Growth: 106 percent
At the intersection of the underhyped housing recovery and the overhyped manufacturing recovery lies Whirlpool Corporation, America's leading manufacturer of the big stuff you put in your house. This is a bigger company than you think, since they make Maytag, KitchenAid, Jenn-Air, and Amana appliances along with the ones that actually bear the Whirlpool name. They also make some Ikea-branded appliances, as well as producing for the Sears and Home Depot house brands. Home appliances aren't sexy, but that's exactly what makes them a great indicator of core economic well-being. A sexy company can thrive even in a bad economy. To sell washer, dryers, and stand mixers, you need a climate of reasonably broad prosperity.
4. Bank of America
Opening price: $5.80. Dec. 26 price: $11.54.
Growth: 99 percent
The most troubled of America's troubled big banks had a very solid if belated comeback year. That said, this is more a case of the shares being nearly worthless a year ago than of anything extraordinary happening today. The company is still trading well below a notional book value of $20 per share worth of assets, reflecting ongoing concerns about legal liability and a perception that the company is simply too large and diverse to be managed properly.
5. Expedia Inc.
Opening price: $29.66. Dec. 26 price: $57.93.
Growth: 95 percent
Expedia launched the year by spinning off its TripAdvisor group of travel-related media sites and focusing on its core set of online travel tools. That's Expedia itself, but also Hotels.com, Hotwire.com, the corporate travel agency Egencia, and a travel website in China called eLong. A good position in the Chinese marketplace is an asset for any company these days, but travel in general is, like appliances, something that fluctuates with the overall ups and downs of the economy. Firms and households have a relatively easy time cutting travel spending when they need to tighten their belts, but an overall better outlook had those belts loosening this year instead.
6. Lennar Corporation
Opening price: $19.89. Dec. 26 price: $38.01.
Growth: 91 percent
Another homebuilder, Lennar is an even bigger company than Pulte though with a slightly less booming year. Homebuilders across the board had a strong year, re-enforcing the breadth of the housing recovery.
7. Marathon Petroleum
Opening price: $33.41. Dec. 26 price: $61.66.
Growth: 85 percent
Last year was all about growth in the oil and gas industry. This year has seen broader economic growth and a more diverse set of winners. But the technological innovation driving increased oil and gas production in the United States marches on. Marathon Petroleum was one of the biggest beneficiaries this year, especially since its summer 2011 spin-off of Marathon Oil left it focused exclusively on the booming refining and pipeline sectors.
8. Tesoro Corporation
Opening price: $24.47. Dec. 26 price: $43.34.
Growth: 77 percent
Tesoro is another energy player, an independent refinery and gas station operation headquartered in San Antonio, Texas. Its seven refineries in the western United States have benefitted from the combination of increased gasoline production and not-so-large increases in the country's refining or crude oil export capacities.
9. Seagate Technology
Opening price: $16.40. Dec. 26 price: $30.38.
Growth: 85 percent
This company makes hard drives, which actually isn't much of a booming sector because PC sales have stagnated in the face of the iPad and ever-smarter smartphones. The optimistic corporate line is that the strong year reflects successful reorganization after the return of former CEO Stephen Luczo. The more cynical take is that their main competitor, Western Digital, had a lot of factories destroyed by floods in Thailand. Lefty Gomez famously said he'd rather be lucky than good, and the same thing applies in the business world.
10. Gilead Sciences
Opening price: $41.86. Dec. 26 price: $72.48.
Growth: 73 percent
As a Handmaid's Tale fan, I can't help but feel this is a creepy name for a biotech company, but in many ways it's the happiest story on our list. Gilead makes a number of drugs, including the influenza treatment Tamiflu and Cayston for cystic fibrosis. But its strong 2012 was driven primarily by the Food and Drug Administration's approval of Gilead's tenofovir/emtricitabine combination drug marketed as Truvada—the first prophylactic pharmaceutical shown to substantially reduce the risk of HIV infection among high-risk populations. This is good, old-fashioned, innovation-driven growth, where firms prosper by inventing useful new things. 
This year clearly isn't going to go down in the history books as the greatest year in American economic life. The unemployment rate was high, and most Americans' earnings were flat. But the list of top-performing S&P 500 stocks shows unmistakable signs of an economy on the rebound. Players in housing, appliances, finance, and travel all benefited from a general return to economic normalcy with other standout performers scattered across sectors whenever they caught a lucky break. Not the best of times by any means but something like a normal time. If things get even better in 2013, expect to see fewer firms on the list that benefit from generic growth and more stand-out innovators driven to the top by new products rather than a simple increase in production.
---