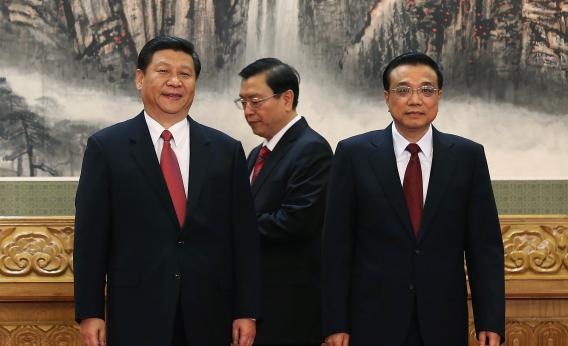 The American elections got done just in time for the finalization of China's leadership transition, a process that—unlike what happened in the United States—is actually bringing a different group of people to power. Most notably, outgoing Chinese President Hu Jintao isn't clinging to any high offices. That's a contrast with the last two leadership transitions where the outgoing president lingered for a year or two as head of a military commission, offering a vantage point from which to continue influencing events.
Instead Xi Jinping will be immediately assuming all of Hu's old offices. He'll be joined as prime minister by Li Keqiang just as has been widely forecast for years. But the rest of the Politburo Standing Committee—the inner circle of Chinese leadership—has been less predictable, thanks to some unforgiveable oversight from Nate Silver.
Today, though, it's all finalized. We're getting Zhang Dejian and Yu Zhengsheng who'll head up China's bicameral pseudolegislatures, Liu Yunshan as vice president, Wang Qishan as anticorruption czar, and Zhang Gaoli who'll be vice premiere and economic manager.
They're taking over at a time when China's economic growth rate is clearly slowing from the crazy numbers it put up in the nineties and the oughts. It's become fashionable to forecast that slowdown turning into a "crash landing." I have to say that as a non-specialist, it makes me leery that the same people I hear forecasting a crash in 2013 were also forecasting a crash in 2009. Obviously if you forecast a Chinese economic crash every year, you'll be right at some point. But I think the analytic model being used is flawed. The analytic model that's not flawed is your basic Solow Growth Model which says that the closer China comes to closing the gap with the rich world, the slower the rate of future convergence will be. In other words, the biggest simplest capital deepening growth gains out there are probably the ones that have already occurred so the closer you get to the technological frontier the harder it becomes to make further progress.
---