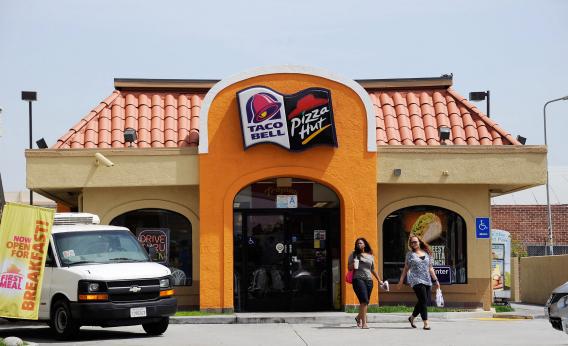 As we've seen previously, Taco Bell is looking to move upscale with its Cantina Bell menu lineup, an initiative that David Einhorn thinks will ultimately kill Chipotle. And on its Q3 earnings call, Yum Brands was eager to tout Cantina Bell as a key driver of rising same-store U.S. sales. But you can see that Taco Bell is hardly eager to give up on its down-market niche:
The Mexican-style chain plans to announce this week an expansion of its sweet treats menu, with the addition of churros and cookie sandwiches to its current lineup of cinnamon twists and caramel apple empanadas. And in coming weeks, it will beef up its offering of savory snacks with the introduction of its "loaded grillers," which are nachos, chicken or loaded baked potato wrapped in a tortilla.
There's a grand scheme behind the new menu additions; by early next year, Taco Bell plans to launch a "Happier Hour" TV ad campaign touting its snack offerings.
This to me is the real question around the Cantina Bell strategy. The products may be a good addition to the store's menu, but the advertising campaign around Lorena Garcia suggested a bigger effort to alter the perception of the overall brand. That's hard to do in general, but it's especially hard to do if you're also running ads touting your "loaded grillers" as key "happier hour" snacks.
---