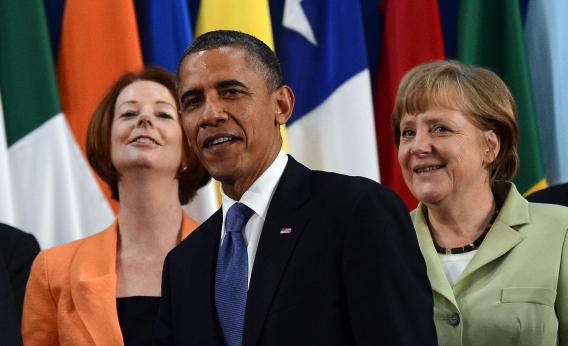 The period since the economic crisis of 2007-'08 hasn't been kind to incumbents. Parties in charge have been dropping like flies—starting with John Howard in Australia, John McCain in the United States, and Gordon Brown in the United Kingdom, the tendency has been to lose lose lose. Italy, Spain, Portugal, Japan, Greece, and most recently France have done the same thing.
But there is a small group, led by Angela Merkel in Germany, who've managed to get the voters' assent for their leadership. Julia Gillard's win in Australia in 2010 was pretty shaky, but she pulled it off. Mark Rutte in the Netherlands presided over a triumph for the status quo. And now there's Obama.
This has been a tough period for the world. The United States hasn't done fantastically under Obama's leadership in absolute terms, but relatively speaking we've done quite well and that's reflected in his international peer group of winning incumbents.

UPDATE: Also Stephen Harper in Canada!

---