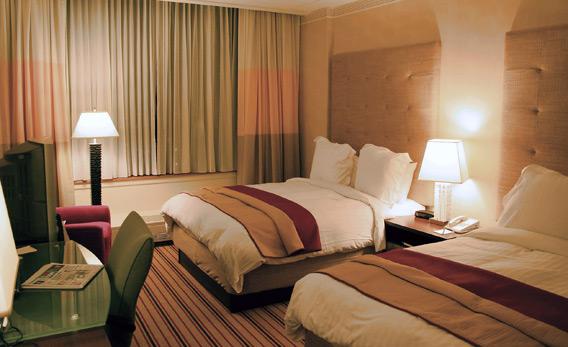 Slate asked our readers to assign us stories, and more than 1,000 of you wanted me to explain why hotels are so expensive. As a reader noted, "The cheapest hotel room in my city's downtown is $90/night, while apartments run about $700-1000/month—closer to $30/night," a huge difference.
There's not a single reason why hotel rooms are so much more expensive on a per night basis than ordinary housing. But one place to start is taxes. Local tax codes tend to treat homeowners relatively favorably. There are some ideological and substantive reasons for this, and also crass politics. Homeowners, as a class, are more likely to be stable long-term members of their community who vote in city council elections. A hotel guest is just the reverse—a transient who can't vote. So in addition to the underlying commercial real estate taxes that are probably higher than what's levied on residences, hotel guests need to pay sales taxes and special excise taxes.
In New York City, for example, a hotel room is subject to 8.875 percent worth of state and local sales taxes, plus a Hotel Occupancy Tax that runs to 5.875 percent plus an extra $3.50 in most cases.
The Global Business Travel Association rates New York's as the most burdensome hotel tax situation in the country, but one interesting finding of theirs is that there's actually relatively little variation. My assignment seems to have come from a reader in St. Louis. In that city, you'll pay 8.491 percent state and city sales taxes and 7.25 percent in earmarked hotel taxes. And commercial real estate in general pays a 32 percent tax rate, far higher than the 19 percent levied on residential property.
Another reason for the high cost of hotels is their location. Mainstream hotels offer premium locations in central business districts or near key attractions, and they tend to invest in what you'd ordinarily consider an unreasonably high level of service. The typical hotel guest doesn't have a maid cleaning his bedroom at home on a daily basis, or the services of a downstairs concierge. But these are typical add-ons at a standard hotel. 
Hotel customers tolerate these marked-up amenities because they generally aren't very interested in driving a hard bargain. The business traveler is likely to feel that he "needs" appropriately located accommodations and isn't going to be interested in exhaustive research about the costs and benefits of staying someplace cheaper and more remote. What's more, he's generally not paying out of pocket. A responsible employee will of course try to be reasonably frugal, but even so frugality is benchmarked to local costs. That encourages a market that's biased toward higher price points. The existence of premium business travelers who can fully pass costs on to clients (think fancy lawyers and consultants) further pushes the market up. What's more, even when people do pay for their own work travel, the cost is tax deductible. If a journalist travels for a freelance assignment or speaking engagement, it makes sense to take extra consumption in the form of staying in a nicer hotel with pre-tax dollars than to spend after-tax dollars at home.
Tourists may be more frugal. But even so, for many vacationers (especially in America) time is in shorter supply than money, so it makes sense to invest extra money in ensuring that the time is well spent.
Last but by no means least, hotels can market unsold inventory without cutting the price of every room. Say I have 85 out of 100 rooms booked at $100 a night. Cutting the price of every room by $5 will cost me $425 and then I have to hope that I get at least five extra bookings for my trouble. It makes more sense to take my 15 spare rooms and directly market them to price-sensitive customers by using a specialized reseller like Hotwire. Hotwire sells bargain hotel rooms, but "opaquely": You only get to know the hotel's neighborhood and star rating, not its name, when you book. That annoyance screens for price-sensitive customers and offers a better strategy than broad discounts. Alternatively, unsold inventory can be offered as free upgrades to members of your hotel's loyalty program. In effect you're giving a targeted discount to a high-volume customer—smarter, again, than flat rate cuts.
In the ordinary housing market, everyone is in effect a high-volume customer booking long-term leases. And the vast majority of customers are knowledgeable about the city, moderately patient, and thus in a position to drive a reasonably hard bargain. Consequently, the apartment market targets a broader spectrum of customers. Very expensive luxury units are available, but so are cheap ones (except in cities where zoning is blocking new construction).
One fascinating recent development is the rise of companies such as Airbnb that essentially turn spare apartments or rooms into hotel beds. This offers new opportunities for price-sensitive travelers and undermines hotels. Airbnb doesn't eliminate the market dynamics that tend to push hotel prices up, but it does at least create countervailing pressure. One possibility is that hotels will get cheaper in response. Another is that the share of the market held by formal hotels will simply shrink somewhat. In that scenario, traditional urban hotels would come to specialize even more narrowly in business travelers and high-end tourists, and average prices would go even higher.