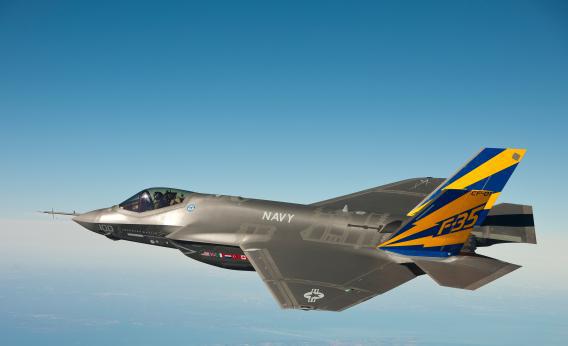 My column yesterday lays out the case that if he gets re-elected, President Obama should learn to love the fiscal cliff and leap off gleefully. Not because the combined tax increases and spending cuts that the cliff consists of are a good idea, but simply because resetting the baseline is a good idea. Once we're "over" the cliff the first order of business should be immediately setting about to make taxes lower and spending higher to bolster the economy.
Obama addressed the fiscal cliff briefly in last night's debate discussing the defense half of the spending aspect of the cliff:
Bob, I just need to comment on this. First of all, the sequester is not something that I proposed. It's something that Congress has proposed. It will not happen. The budget that we're talking about is not reducing our military spending. It's maintaining it.
If we take Obama literally here, he's committed himself to a very unwise course of action. For the defense sequester to genuinely not happen, there has to be an agreement during the lame duck session. And to reach an agreement during the lame duck session, the defense sequester has to be offset by either other spending cuts or tax increases. And Republicans have made it very clear that they are comfortable on insisting that defense be cut rather than taxes raised while simultaneously blaming Democrats for defense cuts. That doesn't make logical sense, but since most high-ranking military officers are conservative Republicans in their overall political outlook the GOP can get away with it. So to avert the defense sequester, Obama would have to agree to offsetting additional cuts in domestic spending.
That said, if Obama isn't being 100 percent literal here then his statement is perfectly compatible with the best possible strategy.
The "fiscal cliff" isn't actually a cliff and it's not as if six days into it the military will suddenly be mothballing ships. All a re-elected Obama has to do is deliver his second Inaugural Address and then introduce a package that pairs middle class tax cuts with partial rescission of both the defense and non-defense sides of the sequester. The GOP of course could try to block that, but it's difficult on the merits to see why they would. And since full implementation of the fiscal cliff would make the deficit too low a purely deficit-hiking bill is perfectly consistent with the administration's deficit goals. Problem solved. Solved, that is, as long as you're willing to get out of the inaccurate and misleading "cliff" metaphor and play a little hardball.
---