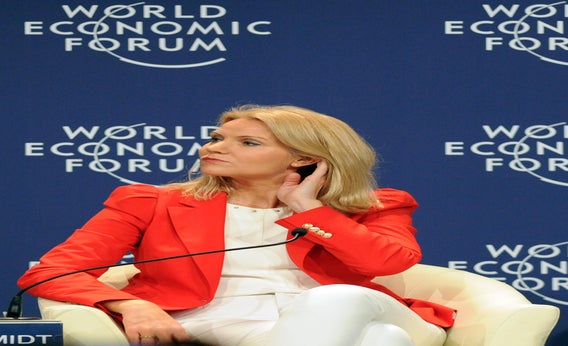 Richard Milne writes about economic problems in Denmark and the ensuing political problems for the country's center-left coalition:

Denmark was the hardest hit of the Nordic countries by the financial crisis, aside from Iceland, as highly indebted households caused big credit losses for banks with several smaller lenders going bust. But the Danish krone has proved to be popular in foreign exchange markets as the country's peg to the euro means that it is a potentially lucrative trade if the single currency breaks up.
The Danish central bank has responded by pushing interest rates to historic lows, and even taking the deposit rates that it pays banks into negative territory. That means Danish short-term mortgage rates, highly popular with the public, are at record lows and getting ever nearer to zero.
That has done little to help Ms Thorning-Schmidt, however, as second-quarter GDP figures showed a decline.
I think the necessary context for this has to be Denmark's misguided policy of pegging its currency to the euro. Sweden, which like Denmark isn't on the euro but unlike Denmark lets its currency float, depreciated substantially during the crisis and then its currency bounced back during the recovery and is now higher relative to the euro than it was before the crisis. Denmark, by contrast, has stuck with the flat peg and continues to see a sluggish job market.
The fact that Danish interest rates are incredibly low right now is just another example of how misleading it can be to rely on interest rates as your way of understanding the stance of monetary policy (recall that rates were high in the inflationary seventies). For small countries in particular, exchange rate dynamics are incredibly important. Denmark's commitment to the euro peg means that when the eurozone's nominal growth path started slowing sharply, Denmarks was brought down with it.

---