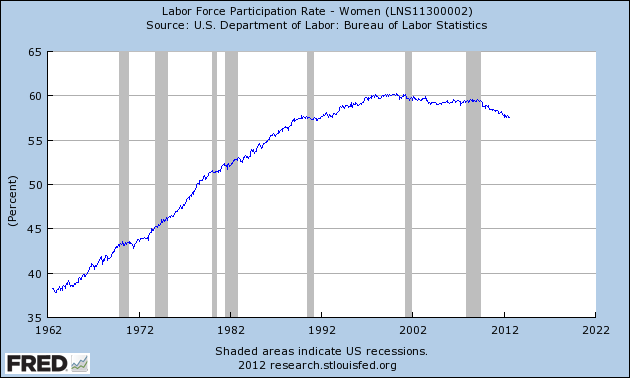 I'm at the Brookings Papers on Economic Activity conference, and Robert Moffitt kicked things off with an admirably humble paper (PDF) on the decline in labor force participation that we've seen since the bursting of the tech stock bubble.*
He says that if you look at the male side of this, it can be largely explained by shifts in family structure. Then he finds a few other factors that also matter related to wages and other aspects of demographics. But on the women's side, very little is explained by these methods, and we need more targeted research to see what's going on. For a long time women's labor force participation was going up and up. Then it slowed down and reversed, with the reversal really starting even before the Great Recession. Why?
Correction, Sept. 13, 2012: This post originally misidentified the name of the Brookings conference.

---