It was to be "a golden future." After frustrating years watching its four-color superhero properties sputter in Hollywood—while rival DC drove its own superhero franchise to even greater prominence—Marvel Comics resolved to put its destiny in its own hands at last. "Total creative control of our celebrated roster of comic book characters"—that's how a company newsletter announced the launching of Marvel Productions, its new studio. "We are looking forward to taking the reins for the development of our own properties as well as sharing our expertise with other suppliers."
That was back in 1980.

And although Marvel Productions managed to churn out a stable of Saturday-morning cartoons over the next decade, it never did scrape together the capital to make its own movies. Instead, fans watched helplessly as Universal turned Howard the Duck into a high-profile fiasco, and as Cannon Films (best known for films like Enter the Ninja and Death Wish III) sat on the rights to Spider-Man. Stan Lee, the exuberant, charming face of Marvel who'd moved out to California to follow his Hollywood dreams, was great for getting a pitch meeting, but closing feature deals was seemingly out of his grasp.
In 1993, Marvel—which Ron Perelman's Andrews Group had taken public and begun expanding rapidly—assumed a 46 percent ownership stake in Isaac Perlmutter's Toy Biz; in exchange; Toy Biz would get an exclusive, royalty-free perpetual license to manufacture toys based on Marvel characters. A Harley-riding, Israel-born Toy Biz designer named Avi Arad  was brought in to guide a restructured and renamed Marvel Films, taking the reins from Stan Lee. (Lee's autobiography diplomatically states that Arad "seemed to desire less and less" input from the former king of Marvel.) By year's end, Arad had signed a deal with 20th Century Fox to do an X-Men movie.

Marvel's Hollywood moment might finally have been at hand. But then it all went wobbly. The comic book industry, flooded by Marvel (and other companies) with gimmicky collector's editions, cratered. Ron Perelman's management team redirected proceeds into other Andrews Group holdings and made bad investments in other companies. Despite Arad's overtures, the Hollywood action started to power down. "It was literally a daily fight," he remembers, "trying to open people's eyes to what was right in front of them." In late 1996, Marvel filed for bankruptcy, cueing a two-year battle royale featuring a head-spinning number of alliances that shifted in various permutations between Perelman, Perlmutter and Arad, and Carl Icahn, the takeover mogul who owned much of Marvel's debt.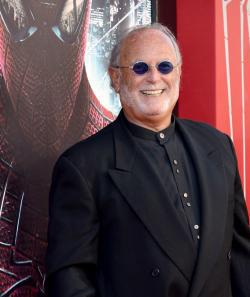 Of all these players, it was Arad who emerged as the comic-book fan. While corporate lawyers screamed obscenities at one another, Arad wooed bankers with a stirring speech about the value of Marvel's characters: "Spider-Man alone is worth a billion dollars," he pleaded, as recounted in Dan Raviv's Comic Wars. "But now, at this crazy hour, at this juncture, you're going to take 380 million for the whole thing? One thing is worth a billion! We have the X-Men. We have the Fantastic Four. They can all be movies."
When at last Marvel did emerge from bankruptcy, with Perlmutter and Arad on top, it was greeted with a streak of luck and delayed payoff: Blade was a surprise $70 million hit for New Line. At Fox, the X-Men production finally solved the obstacles of a restrictive budget and a string of discarded writers (which included Michael Chabon and Joss Whedon) to earn $157 million. Most miraculous of all was the news that, after nearly 15 years and countless "Tangled Web" newspaper headlines, the film rights to Spider-Man were finally resolved. The 2002 adaptation broke box-office records.
So Arad and Marvel had a choice. Marvel properties were finally recognized as a gold mine in Hollywood, and the company could well have survived by treating comic-book movies as intermittently appearing cash cows: Hollywood studios make movies with Marvel characters, and Marvel reaps the benefits in the form of increased comics sales and licensing opportunities.

And yet, says Arad, "We were giving away the best part of our business." Marvel took in a mere $25,000 from Blade's success; likewise, it had negotiated only a flat fee from Fox for X-Men. And of the $3 billion that the first two Spider-Man movies raked in from box office, DVD, and broadcast sales, Marvel saw only $62 million. "The deals at the time on DVDs were kind of ridiculous," says Arad. "We got very little out of it." (The characters' creators got even less, but that's another story.)
Enter the soft-spoken, endlessly ambitious David Maisel, a Michael Ovitz protégé who wanted to, in the parlance of wheelers and dealers, unlock more potential. In late 2003, Maisel—at the time working for the Endeavor Talent Agency—flew to Florida for a lunch-meeting pitch to Perlmutter. Maisel laid out a plan for Marvel not only to see more green, but to free itself from the erratic whims of studios by making its own movies. Why take just 5 percent of the gross when you could have it all—and not just the box-office, but the ancillary revenues from merchandising and DVDs? Best of all, the movies could all be tied together into one narrative; rendering each one a quasi-sequel to the last.

Perlmutter was intrigued but not immediately convinced it could work. Maisel was hired as chief operating officer, and with the help of financier Ryan Kavanaugh, a furious process of number-crunching began—a search for the magical financing formula.  Now they worked to build on Arad's successes. "Without that track record," says Maisel, "it would have been hard to get people to listen."
Still, many of the board members were hesitant to take the plunge. In five years, Marvel had already gone from bankruptcy to a market capitalization of more than $600 million; stock was at $17 a share. Maisel's insistence that they could take it to $50 a share seemed, to some, an unnecessary gamble. "I remember making a 30-page PowerPoint presentation," says Maisel, "outlining with a huge amount of detail what the movies could be worth." He hammered the point that a gross deal was nothing more than an option, and that even if an optioned film does get made, the timing of release—an element of control highly desired by shareholders in a public company—is up to the studio, not Marvel. But Marvel management was famously conservative, beginning with Isaac Perlmutter, who sent out memos about recycling paper clips and writing on both sides of notepad paper. "A lot of the ways movies are made was almost anti-cultural to the way Marvel was run," says Arad. "It can be like a bottomless pit until you get the right script, and even then, production and marketing are expensive."

Throughout 2004, Maisel made his case while also putting out feelers for the financial backing Marvel would need to make its own movies. Merrill Lynch's Jeff Kaplan, who'd once worked at Marvel, made introductions to ML's Globally Structured Finance group. By early 2005, when Perlmutter and the board finally gave the go-ahead, Merrill Lynch was ready to get on board. 
But the final piece of the puzzle involved both math and some creative curating. The innovative deal that Marvel and Merrill Lynch slowly put together, and finally announced in April 2005, was nonrecourse financing. That meant that Marvel wouldn't have to put up any cash, but would receive $525 million over an eight-year period to make movies from 10 characters: Ant-Man, the Avengers, Black Panther, Captain America, Doctor Strange, Hawkeye, Nick Fury, Power Pack, and, lastly, Shang-Chi, the Master of Kung Fu. Unless you're a comic-book fan, chances are that you've never heard of half those characters. That's because Marvel's collateral to their financial backers, if the first four of the films failed, was simply the movie rights to the remaining six characters. (Even if Marvel lost those rights, they'd still retain merchandising revenues.)  "If [the backers] wanted to make films of those characters, they still had to pay a service fee of 5 percent of the gross," says Maisel. So even if the plan failed entirely, "we were no worse off than current situation."

And although the Avengers were on that list, Marvel wasn't risking them, not really—in fact, the rights to Iron Man, Black Widow, Thor, and the Hulk were already tied up with other studios. This was just a nice little sleight-of-hand: the super-team had included so many B-list members over the years that, Marvel could argue, the lien was actually only for a lineup of, say, Jack of Hearts, Two-Gun Kid, Tigra, and D-Man.
Of course, it never came to that, and even before it was time for the first film to go into production, New Line's option on Iron Man expired, Lionsgate gave up its claim on Black Widow, and Marvel reacquired Thor from Sony and the Hulk from Universal. Maisel and Arad both agreed to push for Iron Man—a favorite of both men since childhood—as the first film. Just as had happened 40 years ago in the comics of Stan Lee and Jack Kirby, the Avengers began assembling again, setting the stage for a franchise synergy Hollywood had never seen before.

To invert an old Stan Lee phrase, Marvel would never have had such great power without taking on such great responsibility. Instead of the relentlessly lucrative juggernaut that Iron Man kicked off, in which every film made more than $100 million and fed into the success of the next, the alternate-universe Marvel movies would probably be defined by flops (like Lionsgate's Punisher: War Zone) and development-limbo phantoms (like Fox's long-delayed Daredevil reboot).
Certainly we never would have seen Marvel's $4.3 billion sale to Disney. "It's almost laughable," says Arad. "People were saying, 'Wow, that's a high price.' It's a cheap price! It's nothing! It's a very strong brand, and we planned on this brand. It wasn't a fluke."