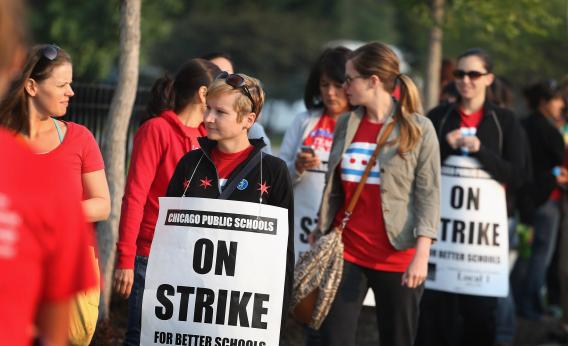 The Chicago Teachers Union is ready to suspend their strike which is great news for Chicago kids, and I'd have to say they largely prevailed in the strike which is excellent news for Chicago teachers. They won some modest raises, they won on some modest health care issues, they won some protections for teachers who lost their jobs due to school closings, and they won on some required additional staffing. Which is fine—I think paying teachers more in exchange for policy reforms (as we did under Adrian Fenty and Michelle Rhee here in DC and are continuing to do under their successors) is a much more viable path forward than unilateralism.
But there's very little reform in here. Or, rather, the move to a system where teachers will be evaluated 30 percent based on measurable student achievement is a big reform. But it's a reform mandated by state law, not a new concession that Rahm Emanuel won. He got what looks like a modest increase in the size of the schoolday and that's about it. 
So for a strike that everyone said from the beginning wasn't really about money, the resolution turned out to have a lot to do with money. But the strike itself doesn't conjure up the funding to pay for the new deal, and the mayor's office doesn't have much to say as of yet about where that will come from. The big idea from the union side during the strike was to rollback TIFs and thus, in effect, impose higher taxes on construction and real estate development. That may end up being how it goes, but my understanding is that TIFs play a special role in the political economy of Chicago so the mayor may look to elsewhere. The fact that the teachers won on most of the issues at hand but still are going to have to live with a state-mandated evaluation system they hate seems to lay the groundwork for more strife ahead.
---