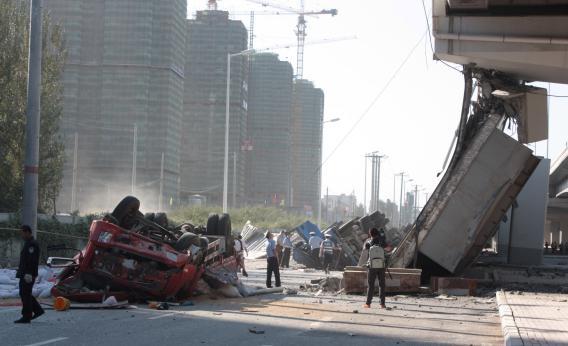 Part of the conventional wisdom around the slowing of the Chinese economy is the idea that the level of investment growth that's been happening over there simply isn't sustainble. There's no way the government can pour even more money into infrastructure projects. But then again, via China skeptic Tyler Cowen I see this story about the actual state of Chinese infrastructure:

According to the official Xinhua news agency, the Yangmingtan Bridge was the sixth major bridge in China to collapse since July of last year. Chinese officials have tended to blame the bridge collapses on overloaded trucks, and did so again on Friday.

Bridges in the United States are built with very large safety margins in case heavy loads cross them, however. Many in China have attributed the recent spate of bridge collapses to corruption, and Internet reaction to the latest collapse was scathing.

Obviously this reflects poorly on China and so does the story I linked to this morning about huge inventory overhangs in China, but from a forecasting point of view they point in the opposite direction. If China's bridges are crumbling, that indicates that excess capacity could easily be redeployed into rebuilding broken bridges and fixing other ones before they collapse. Which isn't to say that collapsing bridges are a good thing. But it is an indication that the Chinese government has room to work with in terms of stabilizing demand.

---