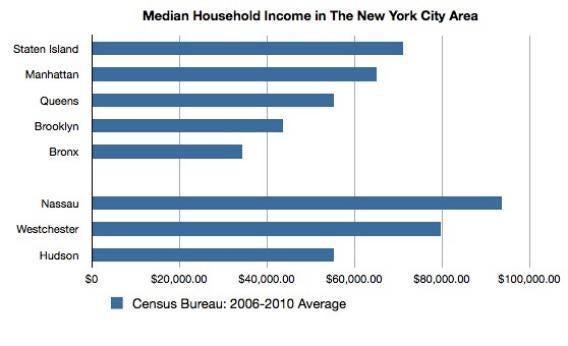 My post yesterday on how $250,000 is a lot of money even in New York garnered some interest, so I thought a broader look at the Census Bureau data on median household income in the area might be interesting. It turns out, for example, that median household income is higher in lowly Staten Island than on Manhattan. This reflects the fact that there's more to Manhattan than Central Park West. Despite a considerable amount of gentrification in Harlem there's still a lot of people of very modest means in the northern portions of the island, while the vast majority of Staten Island's building stock is exempt from rent regulations. At the same time, restrictions on dense development keep Staten Island's population low.

Below the gap I also put the suburbs into the picture. This clarifies that the inner-ring suburbs of Nassau County and Westchester County are both much richer than the city per se and as usual exclusionary zoning practices largely keep poor people out. The small, dense transit-accessible (via PATH) Hudson County would fit right in income-wise as a "sixth borough", basically like Queens but on the other side of the Hudson.
Of course all this is by median income. If you go by means it turns out that Manhattan has a ton of really really really rich people and Brooklyn has a smaller-but-substantial number of generally-not-quite-as-rich people.

---