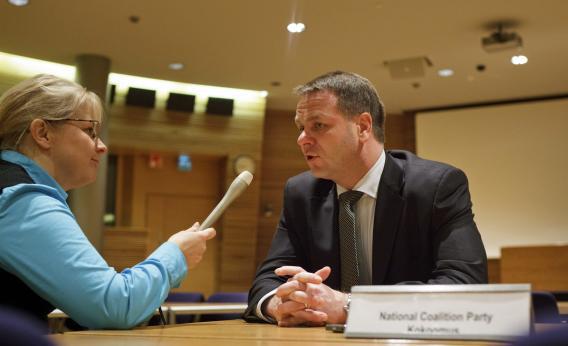 Here's another one for the "Fixit" files, as Finland's ideologically diverse pro-euro coalition seems to be straining over Finland's previous demand that any country receiving loans from the European Union post collateral. When applied to Greece, this Finnish demand was a minor annoyance, but Jan Vapaavuori—the parliamentary leader of the center-right National Coalition Party, which leads the Finnish government—is correctly noting that as applied to Spain this has become a major hangup that doesn't really accomplish anything.
But Vapaavuori's opposite number in the Social Democratic Party—traditionally the NCP's ideological adversaries, but their key partner in the coalition—says he's not open to any changes. It was the Social Democrats' party leader, Jutta Urplainen, who launched the last round of Fixit speculation by saying that though Finland wants the eurozone to succeed it will not "hang itself to the euro at any cost."
The most politically likely Fixit scenario I can envision is the Social Democrats using some new development as a pretext to bust up the coalition with the NCP and try to form a new government they would lead that would include the euroskeptical Center Party.
In economic terms, the case for Fixit is two-fold. On the one hand, Finland has all of Germany's concerns about cosigning loans to "irresponsible" southern European countries except without Germany's sense of historic mission or Germany's practical control over eurozone economic policy. On the other hand, for a eurozone member, Finland does relatively little trade with the rest of the eurozone as neither Sweden nor Russia use the euro.
---