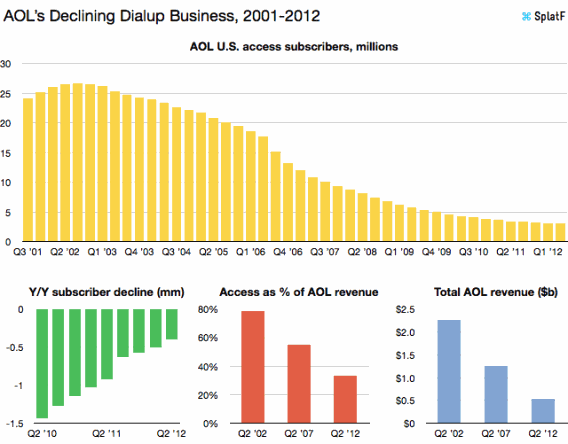 AOL posted a surprisingly strong Q2 earnings report, finally halting declines in its display advertising business. But Dan Frommer notes that an equally important piece of the puzzle is that AOL has slowed the decline in its dial-up Internet access business.

The dial-up Internet access business? Yup. To quote the report:
The decline in subscription revenue was the lowest level of decline in over 5 years with the trend improvements reflecting continued improvements in churn and 2% growth in average revenue per user (ARPU). Monthly average churn fell from 2.2% in Q2 2011 to 1.7% in Q2 2012, driven primarily by significant subscriber retention efforts and by the continued maturation of the tenured base. ARPU growth reflects the impact of the price rationalization program AOL began in late Q3 2011, which significantly reduced the number of price points and more clearly defined and enhanced the value of our product offerings for consumers.

And now to quote Ken Auletta from January 2011:
The company still gets eighty per cent of its profits from subscribers, many of whom are older people who have cable or DSL service but don't realize that they need not pay an additional twenty-five dollars a month to get online and check their e-mail. "The dirty little secret," a former AOL executive says, "is that seventy-five per cent of the people who subscribe to AOL's dial-up service don't need it."
De-euphemized, in this context the "price rationalization program" seems to mean milking the suckers more vigorously, while "continued maturation of the tenured base" means they're more-and-more down to a hard-core group of suckers.

---