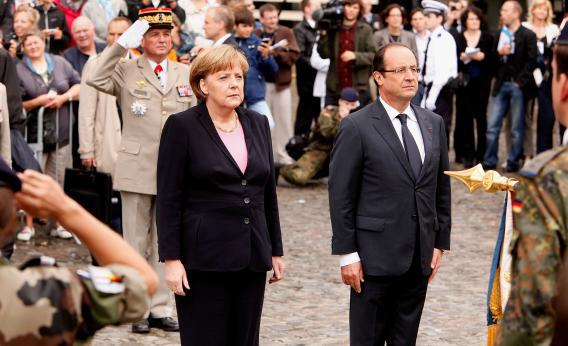 Nobody in America is thrilled with Angela Merkel's handling of the European economic situation, but don't expect a change:
Two-thirds of Germans, or 66 per cent, are satisfied with the chancellor's work, a leap of 8 points from June and Ms Merkel's highest score since the first bailout of Greece, according to a poll published yesterday by the ARD public television network.
Interestingly, despite Merkel's popularity the same poll suggests that if an election were held tomorrow (which it won't be) Merkel's government would collapse: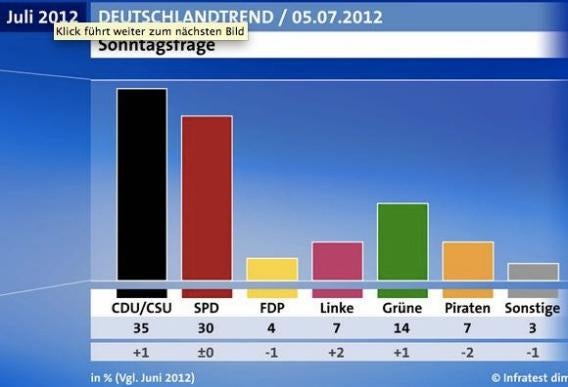 Merkel's party, the CDU/CSU, would finish first place which is what you would expect from a party led by a broadly popular incumbent Chancellor. But her junior coalition partners in the FDP would get hammered. That four percent they're polling at is wildly lower than how they did in the last election and—more important—suggests they'd slip through a crucial five percent minimum threshhold. Between the FDP's poor showing and the Greens' strong showing, this structure of public opinion could easily lead to a SPD/Green coalition government (although you would have to wonder if this many people would really vote Pirate at the end of the day).
That said, Merkel has a sky-high approval rating and when ARD asked voters head-to-head whether they're prefer her or SPD leader Sigmar Gabriel to be chancellor she wins in a landslide. So realistically the most likely alternative to today's coalition might be a CDU/SPD "grand coalition" led by Merkel with the Greens, Pirates, and Left forming a fractious opposition.

---