With just about 3,000 residents living on its 141 square miles of pristine beaches, red dirt roads, and largely undeveloped land, the Hawaiian island of Lanai feels like a small town. It doesn't even have a traffic light. So when word got out that Oracle CEO Larry Ellison was buying 98 percent of the island, news flew fast among Lanaians, who were left wondering what Ellison plans for their community. And indeed, Ellison's business and personal history suggest he might be uniquely unsuited to ownership of a sleepy island steeped in tradition and studded with native Hawaiian heritage sites. Is Ellison ready to be king of an island that may not want him?
Ellison reportedly owns a home on the island, but—curiously for a place where everyone knows everyone—no one I spoke to knew where it was or said they've met Ellison. "I never heard of his name before two days ago," said 29-year-old Mikala Enfield, an eighth-generation Lanai resident, as she sat stringing leis outside the Lanai Culture and Heritage Center the other day. "I think everybody who has any information on him Googled him two days ago."
Most of Lanai has been privately owned since the mid-1800s and was used first as a cattle ranch and then as a pineapple planation under Castle & Cooke's Dole Foods. After Castle & Cooke CEO David Murdock bought the company outright, he moved pineapple production to cheaper overseas locations in 1992 and tried to transition Lanai into a tourist destination. But Murdock's been steadily losing money on his island investment since then, and rumors of his selling Lanai have circulated for several years.
There was certainly no love lost between Lanai residents and Murdock, who lobbied for a plan to build a wind farm on the island's pristine northwest coastline. But will Ellison be any better? The CEO has pledged $10 million toward improving the island's public utilities and is issuing reassuring messages about his respect for "culture and conservation stewardship of the island." (Ellison did not respond to a request for comment.)
Lanai native Christine Costales, who works with the University of Hawaii's Lanai Native Species Recovery Program on the island, said she hopes Ellison is ready to listen to residents. "We want someone who really cares about conservation and stewardship, not just writing things in history," Costales said. Ellison's history of conservation includes saving a tennis tournament, pouring millions into winning the America's Cup sailing race, and filing a lawsuit against his next-door neighbors to get them to cut down their redwoods.
Indeed, Ellison models his Oracle sales strategy after a "take no prisoners" Japanese business style. "The problem with America is that we just have no stomach for competition," he once admiringly recalled a Japanese executive telling him. "In Japan we believe that our competitors are stealing the rice out of the mouths of our children. In Japan we think anything less than 100 percent market share is not enough."
Ellison's used that strategy to make himself the third-richest man in America with a $36 billion fortune. He pursues first place in all that he does. But Lanai may not reward that pursuit, and it's easy to see him struggling to play the diplomat in tricky island politics where local livelihood depends almost entirely on his decisions.
The question on Lanaians' minds is: Why did Ellison buy their island? To preserve its way of life or to accelerate development? Mikala Enfield sharply declared that Lanai is "not just a piece of land that you can go make money on." And she's right; Ellison isn't likely to turn a quick profit on a place Murdock lost tens of millions of dollars on each year.
At the Lanai Culture and Heritage Center, Director Kepa Maly was dubious. "I would have to imagine that he realizes that no one's going to walk away from Lanai making millions or billions of dollars," he said.
At the Blue Ginger Café on Dole Square in tiny Lanai City, Tommy Urpanil fiddled with his sunglasses as he sat at an outside table. Urpanil, like many Lanaians, works in tourism, driving visitors around the island. The 66-year-old told me he wished that another rumored suitor had bought Lanai: Ellison's tech-world rival, Bill Gates. Prior to Ellison's name being announced, rumors had swirled that Gates was also interested in buying the island.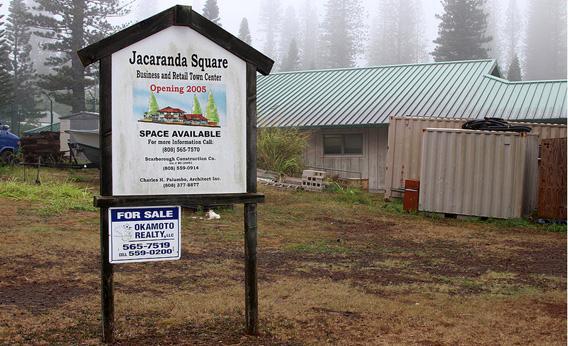 While Gates got into some trouble during his 1994 wedding on Lanai when he tried to block access to public property, he soon became accepted by many here—in part because on his regular visits he came off as low-key and in part because he donated computers to the community. "He really liked the island," Urpanil said. He's not alone in wishing that Gates would come riding to the island's rescue; residents want Lanai to remain Hawaiian and want the new owner to focus on historical preservation and sustainable, small-scale economic opportunities—ideas that sound more Gatesian than Ellisonian.
Urpanil waved to a friend as he walked past. "I think Ellison has got something up his sleeve," he said.
Those making wagers on what that could be might place bets on this sportsman's preferred trifecta of sailing, tennis, and flying. Maybe a bigger runway at the airport to accommodate direct-from-the-mainland flights (not to mention his planes, including a MiG fighter jet). Ellison will own the island's Four Seasons resorts, and could expand their tennis facilities substantially to host tournaments. And the island might need more harbor space if he wants to dock his racing sailboats. (He sold his share of the 450-foot yacht Rising Sun to David Geffen.)
But how much expansion and development can the island support? How much will its residents accept? Ellison loves sports cars, but there's only so far you go on an island with 30 miles of paved roads before you're back where you started.
"Life's a journey. It's a journey about discovering limits," Ellison said at a tech conference last month. He may discover the limits of his "Oracle way" on Lanai. Maly had a simple reminder when I asked him about what an entrepreneur like Ellison can get out of Lanai. "Lanai's history since Western contact," he noted with a wry look on his face, "is littered with the graves of failed businesses."