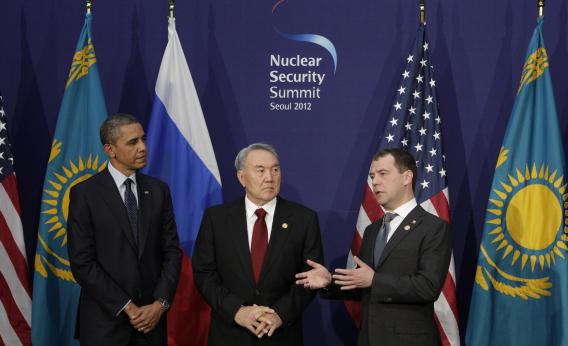 Kazakhstan is one of those places Americans don't think much about – except, perhaps, if they trade oil stocks, the mining industry or remember that it is the native land of Sasha Baron Cohen's lead character in the "Borat" movies. (The movie's real title is: Borat: Cultural Learnings of America for Make Benefit Glorious Nation of Kazakhstan. Yes, it's stupid and crude. But it's also very funny. The Kazakh government found it so funny that they banned it, and made Cohen remove the website – www.borat.kz – he had registered in the country).  
Over the past 20 years, since it broke free of the soft underbelly of the Soviet Union, the country's leader, Nursultan Nazarbayev, has managed to keep his nation out of the headlines. By and large, when Kazakhstan made news, it involved massive energy discoveries, oil contracts, new production records and the operations of its rapidly expanding sovereign wealth fund (SWF).
This all changed just after the country celebrated the anniversary of its independence in December when striking oil workers in the eastern Caspian city of Zhanaozen clashed with security forces, leaving 16 of them dead. Today, far more of them are in jail, along with opposition figures and ordinary citizens who took to the streets in cities and towns all over the giant Central Asian country. Just this week, the wife of one of the jailed strike leaders was herself jailed for illegally distributing leaflets.
What's more, Nazarbayev, referred to in Kazakh text books as "Papa," showed his displeasure by sacking his son-in-law, Timur Kulibayev, the high-living head of head of the country's $80 billion SWF.  
Martha Brill Olcott, a Eurasian scholar at the Carnegie Endowment for International Peace, told me recently that the precise thinking behind Kulibayev's firing is not clear, but that it got the attention of the elites – many of them Papa's relatives – who run the clannish petro-state. Now, factions jockeying for position as Nazarbayev ages are wondering what lesson they should take. Did Kulibayev get sacked for failing to spend more of the state's huge export earnings on peace-buying social programs? Or is there more to the story?
Olcott expects Nazarbayev to remain in charge as long as he's healthy – and there's no evidence the 71-year-old's demise is imminent. But after that, she says, the failure of his government to build democratic institutions during the flush years could come back to haunt Kazakhs and all of Central Asia.  
Why should you care? Besides the fact that Kazakhstan is a major source of oil, gas and uranium, it's also situated in one of the most important fault lines on the planet – a buffer zone between Russia and China, sharing a Caspian coastline with Iran, and pursuing a strictly secular (if autocratic) path with an overwhelmingly Muslim majority population.
A vacuum in Kazakhstan after Nazarbayev will invite bad things: Islamic militancy and ethnic Russian separatism internally, and mischievous interference from its neighbours, too, who have a big stake in how the nation breaks post-Nazarbayev.
From an American perspective, whatever leverage may have existed early on appears to have dissipated. Back in the immediate post-independence period, Nazarbayev won praise for talking up democracy and, most of all, for agreeing to return the portion of the Soviet nuclear arsenal based on its territory.
Ever since, in large part due to the country's massive gas and oil reserves, plus the contracts doled out to big US energy and infrastructure firms as part of a modernization campaign, he's been a regular guest at the White House.  The democracy talk turned out to be just that, of course. But presidents still make time, and just this March he met President Obama during an Asian security summit in March in South Korea. To be sure, this is normal diplomatic practice – the joint statement they released didn't say much.
And yet, that's just the point: the statement said, basically, the same thing President George HW Bush said back in 1992 when Kazakhstan first declared its independence.
 "Twenty years ago," Obama said, "Kazakhstan made a decision not to have nuclear weapons.  And not only has that led to growth and prosperity in his own country, but he has been a model in efforts around the world to eliminate nuclear materials that could fall into the wrong hands.  So I very much appreciate his leadership."
A relationship frozen in a better time, to be sure; unfortunately, no one in Washington seems to want to ask, "What have you done for me lately, Nursultan?" And for those Kazakhs who will outlive their Papa, that's a shame.
---