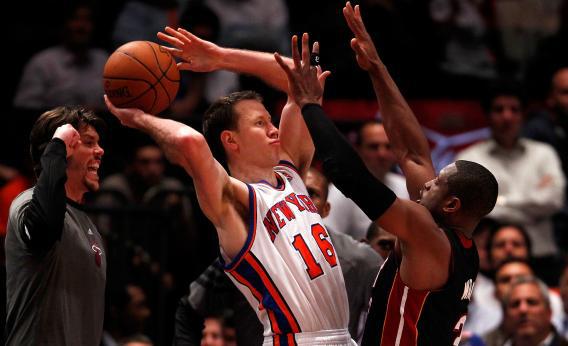 Will the New York Knicks be any good next year? The answer could well hinge on an obscure legal dispute about the application of the so-called "Bird Rule" to players picked up off the waiver wire.
The issue arises because the National Basketball Association, like most North American sports leagues but unlike firms in other lines of business, has been allowed to form an anti-worker cartel that depresses wages via a salary cap. This creates the secondary problem that in pursuit of depressing wages, sometimes teams may not be able to resign their signature star players. Thus the cap has a "Bird Rule" exemption (named after longtime Celtics star Larry Bird), which is designed to make it easier for a team to resign its own veteran players. Over the years it's been established that if a player is traded, he generally retains his "Bird Rights" to be paid more money. But what if a player is waived and then picked up off the waiver wire? This issue has never been resolved, but it applies to two different Knicks players in the coming offseason and will be the subject of litigation between the NBA Players' Union and the NBA.
The unusual issue arises because both Jeremy Lin and Steve Novak played very well after being waived and signed by the Knicks, so there's meaningful interest around the league in resigning them this offseason. If the Players' Association wins, the Knicks will be able to offer them relatively generous deals, and since the Knicks organization is very efficient at translating wins into revenue it'll make sense for them to do so. But if the Players' Association loses, the Knicks will be constrained from making a generous offer and Lin & Novak will likely end up heading elsewhere for less money than the Knicks would have been willing to offer them.

---