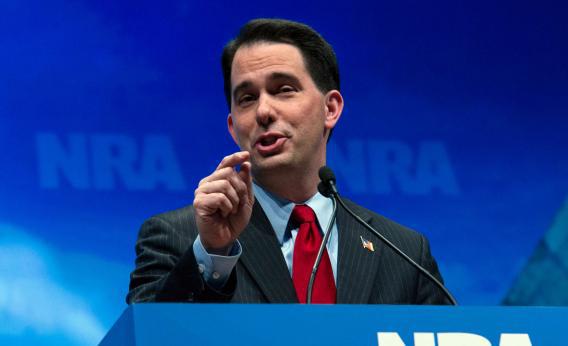 Wisconsin Gov. Scott Walker promised policies that would spur the creation of 250,000 jobs by the end of his term in 2014. And for a little while the Bureau of Labor Statistics was in fact showing strong jobs growth in Wisconsin, a fact that the governor naturally touted. But then came some trouble in paradise:
Now that the Bureau of Labor Statistics figures have shown for months that the state is losing more jobs than any other, Walker, a Republican who faces a June 5 recall election, will release his own.
Wisconsin lost 23,900 jobs between March 2011 and 2012, according to the bureau, which will release fresh estimates tomorrow. Walker, who promised to create 250,000 jobs by the end of his first term in 2014, says the state is performing better than that. He said while campaigning this week that he would release his own figures as early as today, the Associated Press reported.
Everyone knows the games politicians play to take credit or evade blame for employment trends get a bit silly. But Wisconsin is an interesting test case. One prominent theory of the recession is that the lack of bounce-back jobs growth represents a real shock to America's long-term growth potential driven by the bad left-wing policies implemented by the Obama administration. Under that theory we should expect states that have had unusually large countervailing policy changes in a right-wing direction to be doing unusually well.
---