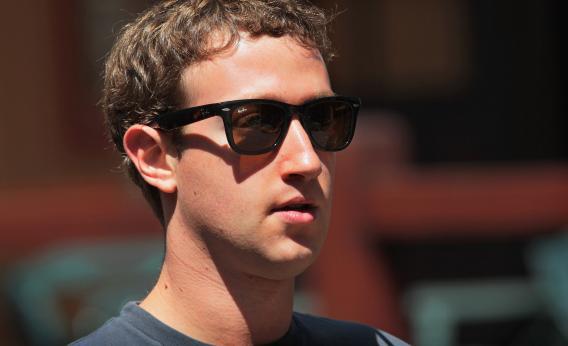 A nice Wall Street Journal story about Facebook's negotiations for the $1 billion purchase of Instagram makes it clear that this was a very personal decision undertaken by Mark Zuckerberg with little input from Facebook's other nominal owners: "The board, according to one person familiar with the matter, 'Was told, not consulted.' "
As I noted at the time of Facebook's IPO filing, this is clearly how Zuckerberg wants to do business and he's structured the firm to remain directly under his thumb to an unusual extent. I find this in many ways to be admirable. The paperwork is very clear, and so nobody who invests in Facebook will be under any illusions. The striking thing about corporate governance in the United States is the extent to which firms that don't have Facebook's formal structure more or less operate the same way. Starting last year, Dodd-Frank is requiring firms to let shareholders vote on executive compensation and it seems to be making a difference. The actual rule is pretty weak. The requirement is that shareholders take a non-binding vote even though in theory the shareholders own the company. But as Dealbook emphasizes, a firm like Citi that loses a vote does face some real consequences. But the fact that Citi even thought this was a proposal they could get away with in the first place is a sign of how off the rails the situation is:
Last year, the Citigroup board paid Mr. Pandit almost $15 million, plus one-time retention awards with a potential value of $34 million, as calculated by I.S.S. The proxy advisory firm recommended against Mr. Pandit's package because parts of his awarded pay were not based on Citigroup's financial performance, Citigroup stock had declined by more than 90 percent in the last five years and Mr. Pandit's pay package was not in alignment with that of his peers.
Citigroup in part defended this pay package by arguing that Mr. Pandit had not received a meaningful salary for the three previous years, being paid only a dollar a year. This was nice of Mr. Pandit, but it must be put against the fact that Citigroup paid about $800 million to acquire Mr. Pandit's hedge fund, Old Lane, an investment that Citigroup subsequently wrote off completely. And Mr. Pandit received an $80 million payment from Citigroup last year as part of the Old Lane buyout. He's not about to become part of the 99 percent anytime soon.
One point AFL-CIO chief Richard Trumka emphasized at today's CEO Paywatch event is that a related Dodd-Frank provision has yet to be implemented. Specifically, Dodd-Frank instructs the SEC to promulgate a rule requiring firms to publish information about the ratio of CEO compensation to median employee compensation. You can see why CEOs don't love this idea, but in the grand scheme of things it's hardly an overwhelming regulatory burden. But the SEC's been dragging its feet in actually implementing this, seemingly in response to CEO whining about it. And there's actually a lot at stake here. It seems pretty clear that CEO compensation is heavily norm-driven rather than straightforward commodity-style supply and demand. Note, for example, that even though Zuckerberg can do basically whatever he wants he's definitely not going to pay himself a $10 million cash salary. That would violate strong norms for how Silicon Valley founder/CEOs are supposed to behave—namely own large stakes in their own firm and count on share price appreciation rather than compensation to make them rich—and alienate a lot of his collaborators and employees. So the extent to which salary comparisons are publicly promulgated and debated could make a real difference.

---