A short while back I was walking through a grocery store when I noticed a radical development. The classic red Solo cup—a keg party staple for nearly four decades—had switched from a round to a square bottom.
This seemed unnatural. Could it be true that college students across the nation were experiencing a wholly different world from the one I'd known? So ubiquitous were these plastic cups in my undergrad days, tweaking them in even the slightest fashion would have altered my entire visual landscape. It'd be akin to a Manhattanite awaking one morning to find New York City's yellow cabs had all been painted fuchsia.
Should you doubt the cup's cultural significance, I would point you toward a brand new Toby Keith song titled "Red Solo Cup." The song opens with these lyrics: "Red Solo cup is the best receptacle for barbecues, tailgates, fairs, and festivals. And you, sir, do not have a pair of testicles if you prefer drinking from a glass." The tune's admirably forthright chorus: "I love you, red Solo cup. I fill you up. Proceed to party. Proceed to party."
So quintessentially American is the red Solo cup, it is available for sale through a specialty website—Party Cups U.K.—targeting British revelers who wish to re-create the ambience of a land-grant university frat house. The site sells nothing but red Solo cups, and every order includes printed rulebooks for Beer Pong and Flip Cup, which the home page informs us are "the Americans' drinking games of choice." With a veritable national icon on its hands, why would Solo risk changing the design?
The company itself boasts a rich history. This fall marks the 75th birthday of the Illinois-based Solo Cup Co., which first made its mark in the 1940s with a small paper cone that often perched on the sides of office water coolers. In the 1950s, Solo made wax-lined cups that proved ideal for the takeaway fountain sodas served at drive-in movie theaters. Nowadays, the company manufactures all manner of single-use dinnerware, cutlery, and beverage receptacles. Its products are found in supermarkets, convenience stores, coffee shops, and fast food restaurants across the globe (as well as in the White House Situation Room). But it remains best known for the red party cup, which launched in the 1970s.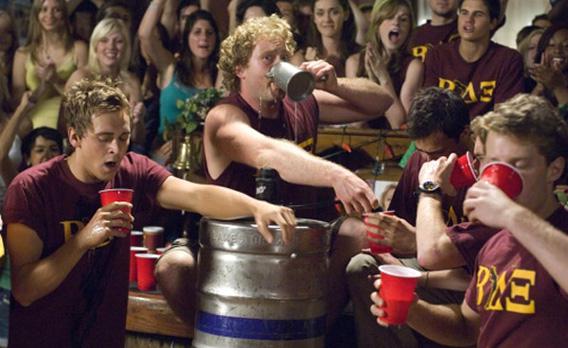 How did the red cup become synonymous with good times, keg draughts, and sticky-floored basements? "The history is a little sketchy," says Kim Healy, VP of consumer business for Solo. "We know we were one of the first to introduce a party cup."
So perhaps first-mover advantage played a role, with followers clamoring to emulate Solo's technological breakthrough? For surely the quality of the design played a part. From the beginning, this has been the Sherman tank of disposable mealware. Made of thick, molded polystyrene, the Solo party cup could be squeezed in meaty frat-guy paws, dropped to the ground by tipsy highschool cheerleaders, and mercilessly battered by Flip Cup contestants—all while maintaining shape and functionality. It was stiffer and more resilient than competitor party cups like Dixie's.
No doubt the cup's opacity was a selling point for underage college and high-school drinkers who would prefer not to reveal exactly what they're sipping. But why red? Healy says the red-colored cups make up 60 percent of Solo party cup sales, with blue cups a distant second. "I've been here 12 years, and I've tested this over and over. Consumers prefer red, and it's not very close. I think for one thing it's a neutral color that's appealing to both men and women. It's also just become a standard." Perhaps it is a psychologically ingrained preference, as well. Some color theory holds that red signifies concepts like energy, passion, and emotional intensity, while blue is linked with tranquility and depth. I know which set of associations I'd rather trigger at my drunken beer blast.
Solo keg cups also hold a bit more liquid than the competition. They boast an 18-ounce "flush fill" as opposed to the 16 ounces offered by some competitors. (Healy explained that "flush fill" numbers measure the amount you could pour right up to the rim, while the "practical fill" stat shaves off two ounces to allow for ice cubes and spill avoidance.) Most partiers will agree: More is better when it comes to beer-containment capacity.
The Solo Cup Co. has had a rocky decade. Private and family-owned since its inception in 1936, Solo ran into debt problems after buying long-coveted competitor Sweetheart Cup in 2004. It was revealed that family members and c-suite executives at Solo had received ridiculous pay and perk packages. A leveraged-buyout firm seized control and helped clean house, and operations have since begun to stabilize. Never in doubt, though, was the market supremacy of the Solo party cup. "We've been number one since I've been here," says Healy. "Our real competition only comes when the economy is down and people look to save money with generic cups."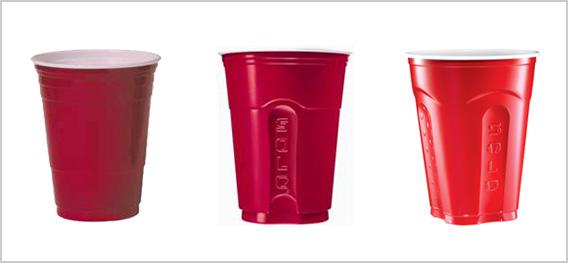 And this is where that square bottom comes into play. It is hard to differentiate one red plastic cup from another. So, starting in 2004, Solo began to introduce distinctive elements. According to Healy, making any change at all to a sales juggernaut like the party cup spurred great trepidation at the company. But Solo went ahead and added indented grips—touted as a solution to the slippery-when-wet problem encountered by drinkers who slosh their beer over the cup's rims. And then, in 2009, Solo squared the circle. "It makes it much easier to hold," says Healy of the square sides, "and it actually adds strength and structure."
Healy says the two design changes each spurred double-digit sales growth, so, mission accomplished. But I actually prefer the aesthetics of the original red cup (you can see it pictured in this Solo timeline, next to the label "1970s"). The current cup strikes me as a victory of function over form—a clunky, overdesigned beast. There are multiple carved-out hollows offering purchase for sweaty fingers. Thickly embossed "SOLO" logos running down two sides. There are even bumpy dimples to help maintain grip. It's a bit of a mishmash, lacking the spare, sleek lines of its classic forebear.
Stylistic quibbles aside, I had one vital question: How might the new shape affect the product's famous role as a Flip Cup accessory? Healy wouldn't take the bait when I asked her if such concerns were factored into the redesign. "We don't market the cups that way," she said, "and we count on our customers to use them responsibly." Sure, sure. But that doesn't help the Flip Cup assassins out there—the dudes and gals who need to know if this newly square bottom will alter the delicate balance of the cup. Will the same, subtle nudge still induce the elegant mid-air somersault that results in a clean landing?
I have been flipping cups at my desk all day (much to the puzzlement of nearby co-workers), and I can now assure you that there is absolutely nothing to worry about. Flip Cup with a square-bottomed Solo is the same game. So flip away. And if you see Toby Keith, best to lift your Solo cup high in a toast—to let him know you don't drink from a glass.