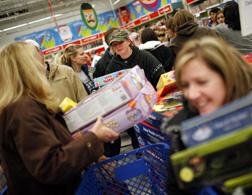 It was in 1966 (or thereabouts—the Internet is not precise) when retail lore was born. On the day after Thanksgiving, America's rapacious consumer hordes, drawn in by sales and dancing Santa dolls, freed from work and family obligations for a rare weekday, would head downtown and buy enough stuff to move stores from the red to the black. It was dubbed "Black Friday."
Decades later, the myth has been punctured. (The Internet is good at that.) Black Friday is a lie, say Snopes and other sites. It might be the busiest shopping day of the year, but it is not the biggest. Super Saturday, the last Saturday before Christmas, is the true day of our retail worship, says the Internet, proffering statistics from the International Council of Shopping Centers.
I realize that this article, no matter how widely cited or debunked, cannot restore the lost retail myths of yesteryear. But there is evidence that Black Friday is in fact returning to its mythic status. The ICSC data is from 2001—an eon ago in retail years. Of late, Black Friday has indeed been the biggest shopping day of the year, both traffic-wise and sales-wise. And this year, signs point to big sales for consumers (on everything from socks to iPads) and big sales for retailers.
For one, the 2010 calendar suggests a big Black Friday. No year's biggest shopping day ever exists in a vacuum, with weather, timing, the state of the economy, and a dozen other variables influencing when and where Americans shop. For a few years in the late 1990s and early aughts, Super Saturday drew more sales than Black Friday. (Why? Most retail analysts think procrastination, plain and simple.) This year, analysts believe Black Friday will win out—as it has for the past few years—due to recent improvements in consumer expectations and, more mundanely, because Christmas itself falls on a Saturday.
Second, retailers are going for broke—not quite the right metaphor, I realize—trying to gin up big Black Friday sales figures this year. To be sure, every year Black Friday seems like a retailer Thunderdome, with various chains looking to best one another with low prices, grand giveaways, and crazy promotions. But this year, the competition has proven particularly fierce. Most big retailers placed holiday-goods orders in the spring, when the recovery looked more robust than it has of late. They have excess stock and are running very lean and therefore have both increased competition and increased motivation to get customers in the door.
Retailers are not only promising big deals but are expanding store hours and the length of promotions dramatically. That means that Kohl's is opening at 3 a.m., its earliest ever, on Black Friday. Toys "R" Us is starting its sales at 10 p.m. on Thanksgiving, two hours earlier than usual. And in a first, Wal-Mart, America's single biggest retailer, has decided to go for an all-nighter—staying open on Thanksgiving, accepting competitors' coupons, and offering special electronics deals at 5 a.m. Friday.
Third, and most important, there are signs that America's consumers—who spent 2008 and 2009 avoiding spending on anything but necessities—are tentatively ready to hit the malls again. The National Retail Federation expects holiday sales to jump a solid 2.3 percent to $447.1 billion. That growth falls below the 10-year average of 2.5 percent but is promising given the very high unemployment rate of 9.6 percent. ShopperTrak estimates overall holiday sales will improve 3.2 percent compared with last year and has recently upped its forecasts to account for better consumer sentiment.
Slightly countering this trend is online shopping, which could hurt in-store sales. And the economy is still, in a word, crappy. That makes consumers a lot more likely to comparison shop, which is more easily done online. (Companies like Amazon offer lower sales taxes to boot.) That said, the so-called "Cyber Monday" phenomenon is overblown. Shop.org, an arm of the National Retail Federation, coined the phrase in 2005 as part of a promotional push to boost online shopping. According to the NRF, three in four online retailers see boosted sales the Monday after Thanksgiving. Overall, however, the drift towards online shopping is long and slow.
But whether online or in store, retailers and consumers are looking forward to a good holiday season—at least compared with 2008 and 2009. A Gallup poll shows that average consumers anticipate spending $714 on holiday gifts this year, compared with $638 last year. That's less than consumers spent during the mid-aughts' go-go years. But it might help put some retailers in the black.
---