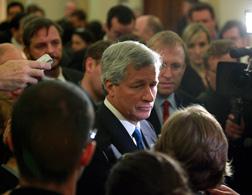 JPMorgan Chase CEO Jamie Dimon was perhaps the biggest winner of the financial crisis. Because his firm was better prepared to manage the storm, JPMorgan Chase emerged from the ashes as the nation's largest bank. It scooped up Bear Stearns (with a big assist from the Federal Reserve) and Washington Mutual and paid back its TARP funds quickly. Dimon, the subject of a generally favorable book, Last Man Standing, presides over a powerhouse with a market capitalization of $161 billion. JPMorgan Chase has gained market share and is back to doing what banks should do when they're able to borrow money for next to nothing: make big profits.
On Thursday, JPMorgan Chase reported second-quarter earnings of $4.8 billion. The provisions for credit losses—money set aside for bad debt—fell to $3.36 billion, down sharply from $7 billion in the first quarter and from $9 billion in the second quarter of 2009. But Dimon downplayed the results. He noted that profits included "the benefit from a $1.5 billion reduction of loan loss reserves—which we do not believe represents normal ongoing earnings." And while pleased that charge-offs and delinquencies were down, "they remain at extremely high levels and therefore returns in our consumer-lending businesses are still unacceptable. … It is too early to say how much improvement we will see from here."
The bank's performance has been quite good in the last year, in absolute and relative terms. (Here's a two-year chart of the stock, which has doubled since the lows of March 2009 and has substantially outperformed both the S&P 500 and the KBW Bank Index of bank stocks.) But from the outset of this recovery, Dimon has tended to accentuate the negative, downplay the positive, and play the role of Mr. In-Between. The message of his comments on the quarterly earnings seems to be: Yeah, we did some good stuff, but at root we're still kind of screw-ups, and we shouldn't expect too much in the future.
A year ago, in the second quarter of 2009, when the economy was still in something close to free fall, the bank made $2.7 billion. "These results were negatively affected by the continued high levels of credit costs in Consumer Lending and Card Services, which we expect will remain elevated for the foreseeable future," Dimon noted. He was right. In the 2009 third quarter, the bank made $3.6 billion but notched credit losses of $9.8 billion, and he warned investors they could face more of the same. "However, credit costs remain high and are expected to stay elevated for the foreseeable future in the Consumer Lending and Card Services loan portfolios," he said. And, "While we are seeing some initial signs of consumer credit stability, we are not yet certain that this trend will continue."
But the stability trend did continue. In the fourth quarter of 2009, when the bank made $3.3 billion, credit losses slipped to $8.9 billion. Commenting on the quarter's and year's results, Dimon said, "We acknowledge that they fell short of both an adequate return on capital and the firm's earnings potential." In the first quarter of 2010, when the bank again earned $3.3 billion, Dimon permitted himself a bit of crowing but lamented that the results were "partially offset by high losses in the consumer credit portfolios." In fact, credit losses in the quarter—at $7 billion—were down significantly. Looking ahead through 2010, Dimon conceded that "there have been clear and broad-based improvements in underlying trends" and said he was "hopeful they will gather momentum, resulting in a strong recovery."
Add it up, and in the last four quarters, JPMorgan Chase has earned $15 billion in profits, while slashing quarterly credit write-offs from $9 billion to $3.36 billion, and has bolstered its balance sheet. But Dimon is remaining cautious. He's keeping optimism—and cash—close to the vest. In February 2009, Dimon slashed the quarterly dividend by 86 percent, from 38 cents a share to a nickel, and has left it there. Despite the recovery in profits, there has been no clear signal that the dividend will be restored to its pre-crisis levels. Dimon said in April that he might boost the dividend when things get better and the picture on regulatory reform is clearer.
In many ways, Dimon perfectly encapsulates business leadership in the current economic situation—cautious about extending credit, cash-hoarding, unwilling to be exuberant in spite of positive results, perpetually tamping down expectations, alert for the debacle that might be lurking around the corner. It's a big difference from 2006 and 2007 when Charles "Chuck" Prince, the CEO of Citigroup, then the nation's largest bank, was promiscuous with his optimism, with credit, and with his shareholders' cash.
---