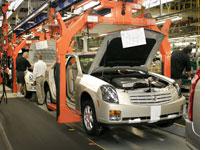 What if the biggest industrial union struck the biggest American automaker—and nobody noticed? That's what happened this morning, as the United Auto Workers launched a national strike against General Motors. They are talking about it—a little—on CNBC, but the strike is vying for airtime with a dozen other stories. And General Motors'stock barely budged on the day.
Of course, the strike matters to GM, its dealers and suppliers, and its workers. CNBC suggested the strike could cost GM $100 million a day and that production in Canada and Mexico would be impacted by the weekend. But in the grand scheme of things, the latest installment of the UAW-GM battle has the makings of this fall's Army-Navy football game—a match between two ancient powers whose rivalry once dominated the headlines but who now play a largely symbolic role. GM and UAW—the largest American manufacturing enterprise and the nation's largest manufacturing union—brawled in bloody 1930s battles and ultimately reached an accommodation that led to a golden age. But GM and the UAW matter less and less to the U.S. economy, and the U.S. economy matters less and less to GM.
The Wall Street Journal has some fantastic charts online that highlight the dual shrinkage of GM's U.S. business and the UAW's membership. This decade has been kind to neither. "In the past 18 months, GM has persuaded 34,400 unionized workers to take early retirements or buyouts, with Ford and Chrysler cutting 27,000 and 6,400 union jobs, respectively," the Journal reported earlier this month. "Since the last labor agreement went into effect in 2003, UAW membership at GM, Ford and Chrysler has fallen from 317,000 to about 180,000." Today, about 73,000 GM UAW workers are out on strike. Given that today's economy hosts 146 million jobs, according to the Bureau of Labor Statistics, GM's UAW contingent comprises 0.05 percent of the American work force. The story of the UAW is the story of the labor movement writ large. As BLS notes, last year, "12.0 percent of employed wage and salary workers were union members, down from 12.5 percent a year earlier"—and down from 20.1 percent in 1983. Only 7.4 percent of private-sector workers are unionized.
GM hasn't fared much better in the United States, with its share of the domestic market falling below 24 percent last year. Thanks in part to the huge losses it has racked up in the United States, GM's market capitalization is stuck at about $22 billion—nothing to sneeze at, but not massive by today's standards. Since Aug. 16, Google, which is valued by the market at about $177 billion, has added nearly $23 billion in market capitalization.
With each passing year, American operations become a less significant component of GM's global enterprise. The company employs about 284,000 people and makes vehicles in 33 countries. Last year, it sold 9.1 million cars and trucks around the world. The United States remains its largest market, followed by China, Canada, the United Kingdom, and Germany. In its 2006 annual report, GM notes that a record 55 percent of vehicle sales were outside the United States. And GM said that its portion of sales outside the United States "is likely to continue growing as we drive aggressively to increase our sales in emerging markets like China, Brazil, Russia, and India."
Sure, the United States remains GM's the biggest market. But even if GM extracts significant concessions from the UAW, the United States is likely to remain a hypercompetitive, slow-growth market for the automaker—a place where it loses money on every car built, where it has to offer aggressive discounts to stem loss in market share. (In fact, there's a degree to which GM might actually have wanted a strike: If they stop making cars for a few months, it'll allow dealers to get rid of their inventory.) By contrast, China, where 7.4 million cars were sold last year (almost half the total in the United States), is the market of the future. GM makes cars profitably in Asia and is the market leader in China, where, for some reason, Buicks are highly popular.
As recently as 15 or 20 years ago, one could have argued that GM's U.S. automaking operations were the most influential and vital component of the global auto industry. Today, by my calculations, GM's loss-making U.S. operations account for about 6 percent (and falling) of global auto sales. Both GM and the UAW will argue that the outcome of these contract talks is vital to the future of the U.S. auto industry. But the subject of the talks—the creation of a trust to guarantee health benefits for retirees and workers, the union's desire for job security commitments, and GM's demands for significant cost reductions so it can compete in the United States—prove that the showdown is really about the past.
---