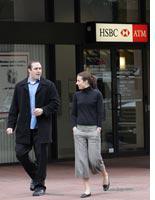 People seem to think that every street corner in yuppified, gentrified, or commercialized areas has been taken over by Starbucks. That's only half true. The rest are being taken over by banks. The Web site that covers my hometown notes that Westport, Conn., already has 26 banks in operation or approved for construction. This in a town that had a population of about 26,000 in 2000. It's almost as bad in Manhattan. On a single Midtown block between Fifth Avenue and Sixth Avenue, there is a Bank of America, a TD Banknorth, a Banco Popular, a Wachovia, and two—count 'em, two—Chase banks. * According to the Federal Reserve, even as the number of banking companies falls each year, the number of branches rises steadily. Nationwide, there were 75,121 branches in 2006, up 10.4 percent since 2002, about one for every 4,000 Americans.
Those numbers don't sound huge. But as has been the case with income growth, bank-branch growth has been concentrated in what an American Bankers Association official referred to as "special ZIP codes." That explains the proliferation of bank branches in tony suburbs and gentrifying urban areas like Park Slope, Brooklyn. Just as there are two Americas shopping, there are two Americas banking. (Go here to check out how many bank branches have opened in your city, county, or state.)
Banks are clean, environmentally friendly businesses. They provide good service jobs, generally with benefits, at good wages. They dispense money freely, and, in the case of HSBC, without asking too many questions. The credit they provide allows consumers to spend with abandon, and they've been reliable stewards of capital. Greater competition brings a range of consumer benefits, from longer hours to higher interest rates on deposits. And yet these signs of prosperity are troubling to many. Suburban reporters in the New York Times have covered the revolt against bank branches in suburban New Jersey and Bronxville, N.Y. ($ required), which in 2004 banned new branches from its main commercial drags.
What's not to like? At least three things:
They crowd out cool shops. Landlords generally prefer banks, with their superior credit and long operating histories, over many of the tenants that help give shopping districts a distinctive flavor, like restaurants, or funky clothes shops, or art galleries. In the town where I live, a large Brookstone store was replaced by a Commerce Bank, and the venerable old hot-dog stand Swanky Frank's is slated to be replaced by an HSBC. The ground floor of Slate's New York headquarters, the NewsweekBuilding, which once housed the beloved Coliseum Books, now hosts a typically antiseptic Bank of America branch. (Insert your own plaint about the way financial services and money are supplanting old media and love of the printed word.)
They're black holes. Bankers' hours are notoriously short. Most banks are closed all day Sunday, most of Saturday, and shut their doors by 6 p.m. on weekdays. In other words, they do comparatively little to draw consumers to retailing districts during peak shopping periods. The hot new thing in urban design is to create zones of 24-hour living. But a high street populated by banks becomes desolate in the evening. In his new memoir, mall developer Alfred Taubman argues that the most robust retailing areas are filled with stores that draw walk-in traffic and impulse buyers, not services like banks and travel agencies. "In struggling downtowns, as opposed to healthy ones, you tend to see those secondary uses, especially banks, occupying prime locations better suited for retail."
Banking is a cyclical business. No functioning downtown would place all, or most, of its eggs in one retailing basket. During bubble periods—in this case, a bubble in credit—the bubbling sectors always swell to occupy an outsized role in the economy. And when the bubble pops, or when a boom ends, that sector contracts quickly. When the banking business goes south, or if the economy slips into recession  , branches, with their high fixed costs, quickly become a liability. In 1993, for example, the number of bank branches fell by nearly 1,000, according to the Federal Reserve. In 2000, a net 1,859 branches were closed. (The number of branches didn't regain the 1999 peak until 2002.) Indeed, the ability to save money by shuttering overlapping branch networks is one of the factors that helps drive bank mergers during periods of sluggish economic growth. Bank branches that are closed all the time are worse eyesores than bank branches that are closed on weekends and at night.
Correction, April 9, 2007: The article originally misidentified TD Banknorth as TD Northbank. (Return  to the corrected sentence.)
---