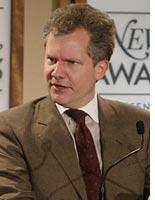 This is a bad time to be head of a publicly held media company, and it's an especially bad time to be head of the publicly held New York Times Co. The stock has been staggering for the last five years. Morgan Stanley is pushing a shareholder resolution aimed at ending the company's dual-class stock structure, which allows the Sulzberger family to control the Times despite owning only a small portion of the stock. (According to the most recent proxy, Chairman Arthur Sulzberger Jr. owns about 5.3 percent of the company's stock.) Sulzberger has been derided everywhere for weak leadership, and the company has been struggling to maintain editorial quality while hitting earnings targets. (Quality often loses. This week, the Boston Globe, which is owned by the Times, announced it would shutter its remaining foreign bureaus.)
But if it's a bad time to run a publicly held media company, perhaps it's a good time to run a privately held one. Should the Times take itself private? And how could it do so?
Many newspaper executives have concluded recently that newspapers are better off being owned by private investors. Last May, advertising executive Brian Tierney and a group of investors paid $562 million for the Philadelphia Inquirer. Late last year, private-equity firm Avista Partners paid $530 million to buy the Minneapolis Star Tribune. And the Tribune Co. is currently weighing several bids.
In an interview with the American Journalism Review, Sulzberger said he has no intention of changing the dual-class ownership structure and no interest in going private. But what if the Sulzberger family, which clearly relishes owning the New York Times and regards the management of the paper as something of a public trust, could take the company private itself, without the assistance of other buyers? It could run the Times as it sees fit, without constant interference and second-guessing.
Is it doable? Definitely. The New York Times Co. is an excellent target for a management-led buyout. (Warning: The following thought experiment relies on some admittedly crude numbers and assumptions.)
At today's price, the Times has a market capitalization of $3.3 billion. A buyer paying a 15 percent premium for control would need to pay $3.8 billion for all the outstanding stock. If the Sulzberger family and current executives and directors contribute the 8 percent of company stock they already own, they'd need to come up with only $3.5 billion. They'd also have to assume the company's existing $1.3 billion in debt, on which the company pays about $50 million per year in interest. Add up the stock and debt, and the total "cost" would be about $4.8 billion, including the assumption of existing debt.
A reasonably aggressive management-led buyout offer might consist of 25 percent cash and 75 percent debt. So the buyers would need to come up with $1.2 billion in cash and borrow $2.3 billion more.
The most recent quarterly report shows the company has about $40 million in cash. But the Times is in the process of selling radio station WQEW for $40 million, and this month it agreed to sell a group of television stations to Oak Hill Partners for $575 million. When those deals close, the company will have about $650 million in cash.
Last fall, a group of Boston-based businesspeople led by former General Electric CEO Jack Welch reportedly offered between $550 million and $600 million for the Boston Globe. The Times rejected the offer. But let's say the Times reconsiders its ill-fated foray into the New England media market and decides to sell the Globe and its other Boston-area media holdings. Welch & Co. would probably pay $600 million. The Times could also sell its 17 percent interest in New England Sports Ventures, the company that owns the Boston Red Sox and most of the sports channel NESN. According to Forbes, a 17 percent share in the Red Sox alone is worth $105 million. So auctioning its trophy Boston assets could easily net the Times $700 million and a big tax loss on the sale of the Globe.
The company would thus have $1.35 billion in cash, enough for a down payment and a $150 million cushion.
Going forward, the newly private company would have to support an additional $2.3 billion in debt. This is where buyout calculations frequently run into trouble. Assuming the Times can find banks to lend it money at 6 percent a year, the company would have to come up with an extra $140 million in interest payments annually. That's a lot. But the Times would save a big chunk of money from no longer paying a dividend to public shareholders, which currently costs about $100 million per year. The company would also save about $5 million a year by not having to comply with Sarbanes-Oxley and other regulations. And so the company would need to devote an additional $35 million in cash flow each year to meet payments.
Could it do so comfortably? In the nine months ended in September, the Times had $174 million in operating profit, which annualizes to about $230 million per year. Selling units like the television stations and the Globe would reduce operating profits. But as these data on circulation and ad revenue show, the Times itself has revenues of something like $2 billion a year, and the regional newspapers another $500 million. If the company can sustain existing operating margins on its newspapers, it shouldn't have much difficulty making the extra interest payments.
And should the company run into trouble, it would still own many valuable assets that it could sell. The regional newspapers have a combined daily circulation of more than 600,000. About.com, for which the Times paid $410 million in 2005, has increased sharply in value. The Times also owns 58 percent of its new headquarters building, plus the International Herald Tribune, radio station WQXR, 49 percent of Donohue Malbaie, a Canadian newsprint company, and 40 percent of Madison Paper Industries.
In some ways, life as a more-leveraged private company would be more risky for Arthur Sulzberger and his management team. But given the continual harassment they endure in exchange for remaining public, the risk might be worth the reward.
(Disclosure: I contribute regularly to the "Economic View" column in the Sunday New York Times business section.)
---