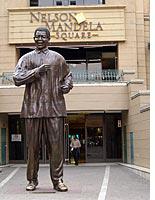 Nelson Mandela Square is dominated by a massive, bronze tribute to the moral voice of South Africa's struggle for freedom and reconciliation. The statue, nearly 20 feet tall, dominates one end of a square in Sandton, the posh white suburb of Johannesburg that has emerged as the nation's post-apartheid business capital. Unveiled in March 2004, this is the first public statue of Mandela. But it doesn't stand in the forecourt of a government agency. It marks the entrance to a fancy mall, built in the 1990s and renamed after Mandela in 2004.
Just past the statue, you enter a climate-controlled world of vaulted ceilings and skylights, cool tiles, nonoffensive atmospheric music, and an unfolding tableau of soft-core consumer porn: Bally, Prada, Apple, Patek Philippe. The courtyard is ringed by restaurants that offer Americanized ethnic al fresco dining experiences—Wangthai, Montego Bay, Trumps Grill Lounge, Caffe Della Salute. You could be in Tysons Corner in suburban Virginia or in Denver's Cherry Creek. The selection in the business section of Exclusive Books, which houses a Seattle Coffee Co., closely resembles the offerings in a midtown Manhattan Barnes & Noble: Joseph Stiglitz's Making Globalization Work, The Long Tail, and Donald Trump glaring from the cover of Marketing 101.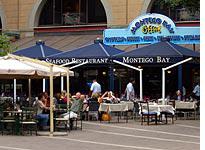 The story of South Africa in the past 16 years is one of integration. The internal integration of the nation's formerly brutally segregated educational, political, and corporate systems. And the external integration of the erstwhile pariah nation into the international community and the global economy. But in many ways, South Africa continues to be a tale of two countries. One, peopled largely by extremely poor people of color, is subject to an unemployment rate north of 25 percent, an AIDS epidemic that affects 5 million people, and rampant crime. The other, peopled by a growing black middle class and a slowly integrating but still largely white upper class, is highly Westernized, comfortable, and, thanks to the global demand for commodities like platinum, booming. Nelson Mandela Square is ground zero of the latter South Africa.
The rise of the Nelson Mandela Square mall, and of Sandton, is a function of a phenomenon Americans would easily recognize: white flight. Throughout the 1990s, businesses pulled up stakes from Johannesburg's old City Center and moved north to spanking-new, low-slung, brick-and-glass office buildings—ringed by high fences and security gates. Cruise around Sandton, amid the many Mercedeses and BMWs (and the odd Maybach), and you'll notice many global brands: Citigroup, Reuters, the Johannesburg Stock Exchange. The lawyers, accountants, and other professionals who serve blue-chip companies have also set up shop in the area. Among them is SpinMedia, whose leaders include Gugu Msibi, who is the daughter of African National Congress members * and is now shepherding my group of American and European journalists around Johannesburg. (Gugu was one of the on-screen advisers on the South African version of TheApprentice.) Because all these firms are integrated, Joburg's version of white flight has also brought large numbers of black professionals to Sandton.
If the similarities to upscale American suburbia are noteworthy, so are the differences. The Smith & Wollensky features kudu, oxtail, and ostrich (fillet and kebabs). When the baristas at Seattle Coffee ask caffeine junkies whether they want a short, tall, or grande latte, they do so in a lilting accent. On the whole, there are more whites than blacks shopping in Nelson Mandela Square. But South Africa's full palette—black, mixed race, Indian, and white—can be seen on both sides of the counters. The Michelangelo Hotel, attached to the mall, is a Ritz-Carlton knockoff, down to the pianist trilling Muzak versions of Faith Hill (another American export, ugh!). But the many tables filled with parties of black people, and with parties of black and white people—at dinner, at a celebratory breakfast, at a corporate conference happy hour, at the round bar adjacent to the pond filled with gargantuan koi—prove that the South African upper crust, still overwhelmingly white, is becoming more integrated.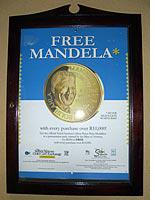 At one level, Sandton and the mall over which Mandela stands sentinel, represent his vision of an empowered black majority taking its place in a prosperous, integrated new South Africa. But this is a country in which the past is never far from the surface. Soon after passing the Brobdingnagian statue, you'll come upon a sign in the mall that reads, somewhat incongruously, "Free Mandela." A second look reveals that the sentiment behind the poster is perfectly in keeping with the ethos of Nelson Mandela Square. It's an ad for a free silver commemorative coin bearing Mandela's likeness for anybody making a purchase of over 10,000 rand ($1,350) at the Scoin Shop.
Correction, June 10, 2010: This article erroneously stated that Gugu Msibi grew up in exile. She grew up in the United States but was not in exile. It also misidentified her parents as African National Congress activists; while they are ANC members, she did not say they were activists. ( Return to the corrected sentence.)
---