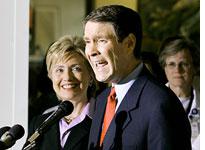 This morning, HCA, the nation's largest hospital company, announced it would go private in a massive $33 billion leveraged buyout led by Bain Capital, Kohlberg Kravis & Roberts, and Merrill Lynch. The founding Frist family and management are likely frustrated at HCA's sluggish stock and would like to be able to plan for the long term without having to answer to stock analysts every quarter.
Big business deals usually aren't ironic, but this one surely is. HCA, a firm founded by the family of the Republican Senate majority leader, Bain, a firm whose founders include Massachusetts governor and GOP presidential aspirant Mitt Romney, and KKR, a firm run by Henry Kravis, a major Republican donor, are betting on the continued expansion of government. HCA's sale is essentially a $33 billion  investment in the idea that government will take an even bigger role in health care. As Les Funtleyder, health-care strategist at Wall Street firm Miller Tabak + Co., put it this morning, "[T]he buyout firms are making a leveraged bet on an improving economy and the prospect of universal health care."
Big business and Republicans may have killed Hillary Clinton's health-care plan in the early 1990s, but the government's role in providing health insurance is huge—and growing.  As the private sector retreats from insuring workers, the government is taking up the slack. According to the Census Bureau (see Pages 16-18), the number of uninsured rose to 45.8 million in 2004 from 45 million in 2003, and the percentage of people covered by employer-based plans fell to 59.8 percent in 2004 from 60.4 percent in 2003. In 2004, 79.1 million people, or 27.2 percent of the population, received health-care insurance from the government, up sharply from 76.8 million in 2003. But those figures only count Medicaid, Medicare, and military insurance. The Bureau of Labor Statistics notes that about 16 percent of payroll jobs are government jobs. So, when you add in federal, state, and local workers, it could be that 40 percent of Americans get their health insurance through one government entity or another.
Simply put, many employers aren't finding it necessary to offer health insurance to attract workers. Meanwhile, thanks to the ongoing benefits cram-down, the insurance that many workers receive comes with higher deductibles. The private benefit cutbacks are dreadful news for HCA. The buyout announcement coincided with the company's earnings report, which showed that the company is having a difficult time getting patients to pay for services. The provision for doubtful accounts in the quarter was $677 million, or 10.6 percent of revenues, up from $541 million, or 8.9 percent of revenues, a year ago. In addition, HCA gave $258 million in discounts to uninsured patients, up from $184 million the year before—and the number of uninsured admissions rose by more than 10 percent. In all, HCA either gave away or wrote off $935 million, or 14.1 percent of revenues, up from $725 million, or 11.6 percent of revenues a year ago.
The fact that, in the fifth year of an economic expansion, HCA has to write off ever-larger portions of revenues as uncollectible is surely weighing on the stock. Senate Majority Leader Frist hasn't done much to help the hospital industry or HCA. In fact, he's been (controversially) reducing his stake in the company. But help seems to be on the way from the states, as Elizabeth Merhen noted in the Los Angeles Times last month. In April, Romney signed into law a far-reaching plan that requires Massachusetts residents to buy health insurance and offers state assistance for those unable to afford it. In May, neighboring Republican Gov. Jim Douglas of Vermont signed the Catamount plan, which provides state subsidies for individuals to buy a new state-sponsored plan or employer-sponsored plans.
Other states are getting into the act on a piecemeal basis, including states where HCA has substantial operations. Tennessee, HCA's home state, in June enacted Cover Tennessee, which helps workers making less than $35,000 buy insurance. Arkansas has done something similar. And the Department of Health and Human Services has approved Medicaid waivers allowing states like California, Texas, and Montana to cover more pregnant women and children. Not to be outdone, San Francisco Mayor Gavin Newsom in June floated a plan to have universal health care in the city. This trend is good news for HCA, which has hospitals in Texas and Tennessee.
In the 1990s, states reacted to the insurance crisis by expanding Medicaid. Many of those efforts were unwound earlier this decade when state tax revenues fell off a cliff. But state revenues have rebounded quite smartly. According to the Rockefeller Institute of Government, state tax revenues grew 8.2 percent in 2004 and 11 percent in 2005, although in real terms they are still below the pre-recession peak. The improved fiscal standing and impending elections this fall will likely stimulate more such efforts.
Political sophisticates would snicker at the assertion that Republicans would usher in an era of universal health care. And they certainly wouldn't bet their own money—and that of several banks—on it. But that's what the Republican-leaning financial types behind the HCA deal are doing. They anticipate government providing more of the health-care revenues that will keep HCA hospitals profitable. And it won't be Democrats who are handing out those health-care dollars. After all, most of the states that are expanding health-care coverage are controlled by Republican governors. And it was a Republican Congress, working with a Republican president, that enacted the massive Medicare prescription-drug entitlement.
---