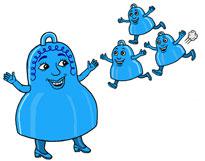 This morning, AT&T announced it would buy BellSouth in a massive all-stock deal valued at around $67 billion. Even before this deal, AT&T, which has been reconstituted through a series of acquisitions led by CEO Edward Whitacre, was the self-proclaimed biggest telecom company in the United States. As it was in its old monopoly days, AT&T is a one-stop shop for everything a consumer of data, telephone, and communications services could want: long-distance, local service, phone directories, wireless, DSL Internet access, Wi-Fi, Internet telephony. You name it. And now it's getting even bigger.
Uh-oh.
We've seen this movie before. Nearly a decade ago, the CEO of AT&T tried to turn the long-distance firm into a telecom superstore by making a series of hugely expensive acquisitions. And that didn't end particularly well for shareholders.
A little history. More than two decades ago, AT&T, the long-distance and local telecommunications monopoly, was busted up after it lost an antitrust battle. AT&T kept the name and the long-distance business, along with the telephone gear manufacturing arm, which was renamed Lucent. The local business was divvied up among the seven regional Baby Bells.
In the mid-1990s, having spun off rapidly growing Lucent, AT&T found itself trapped in a ferociously competitive long-distance business. So AT&T began to invest heavily in its wireless business. And when C. Michael Armstrong, the former CEO of Hughes Electronics, was hired as CEO in 1997, he initiated a bold strategy to return AT&T to its former role as the nation's dominant provider of voice and data services.
Armstrong planned to get AT&T back directly into people's homes by buying cable television companies. After all, the fat pipes of the cable companies could carry data, video, and voice traffic at speeds that would make the Baby Bells' lines seem pokey. In 1999, Armstrong spent nearly $100 billion to buy two huge cable companies—Tele-Communications Inc., and MediaOne—instantly vaulting AT&T to the top of the cable heap. But the anticipated profits didn't materialize. As the massive telecommunications sector began to melt down in 2000, Armstrong quickly reversed course. AT&T Wireless held an initial public offering in 2000 and was spun off as an independent entity in 2001. And in 2001, AT&T sold its massive cable business to Comcast for $72 billion.
Meanwhile, over at SBC Communications (formerly Southwestern Bell) CEO Edward Whitacre went on a shopping spree. In the late 1990s, he bought fellow Baby Bells Pacific Telesis and Ameritech. In 2004, Cingular, the giant wireless phone company jointly owned by SBC and BellSouth, bought AT&T Wireless for $41 billion. And last year, Whitacre bought what remained of AT&T for $16 billion. He re-assumed the old brand name, along with the iconic "T" ticker symbol.
The strategy and rhetoric behind today's AT&T deal sound eerily familiar to the strategy and rhetoric surrounding AT&T's big cable deals in the 1990s. In the 1990s, AT&T's core land-line business was facing tough competition from wireless and cable. Today, AT&T's core land-line and wireless business are facing tough competition from wireless, cable, and Voice Over Internet Protocol telephony companies like Skype and Vonage. In the late 1990s, AT&T believed that its future lay in gaining access to the two main screens in the home: the personal computer and the television. Today, AT&T believes that its future lies in gaining access to the "three screens that many consumers rely on most today—televisions, computers and wireless devices." In the late 1990s, AT&T made hugely expensive acquisitions in the hopes of cashing in on the convergence of data, entertainment, media, and communications. Today, AT&T is making a hugely expensive acquisition in the hopes of cashing in on the convergence of data, entertainment, media, and communications. Guess which executive made the following statement upon announcing a transformative deal: "Together, we will lead the way into a new era of converged and bundled communications, video and entertainment services while also improving our ability to manage complex networks." (It was Whitacre, but it sounds like the sort of thing Armstrong used to say all the time.)
Whitacre and Co. are trumpeting the huge cost-savings to be realized by turning three companies—AT&T, BellSouth, and Cingular—into one and jettisoning thousands of employees. But beyond cost-cutting, it's not clear that the deal is a winner.
Is it likely that this behemoth will be nimble when it comes to rolling out new services, as Whitacre promises? Not particularly. Incumbents frequently are slow to react to disruptive new technologies developed by outsiders. And in seeking to re-create a one-stop data shop, AT&T's executives appear to be ignoring a lesson they should have learned in the 1990s. Sure, it's more convenient for consumers and businesses to buy all their telecom services from one store. But there's no guarantee the phone company will be that store. Each quarter, companies like Comcast, Time Warner, and Cablevision are signing up large numbers of phone and high-speed Internet customers. They can bundle, too. What's more, consumers have a great deal of choice and are bombarded with marketing and incentives to switch. With huge competitors like Verizon, Time Warner, and Comcast out there, the profit-killing pricing pressures are unlikely to go away.
The real challenge for AT&T will be to produce organic growth—and fast. After all, there aren't many companies out there left for Whitacre to buy. If growth and higher profits don't materialize quickly, the same analysts who cheered SBC's acquisitions will start toting up the value of all the entities that could be spun off.
---