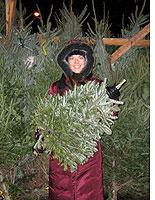 The holiday prognostication business is an impossible one. There are too many moving parts to easily predict how well the economy will do each yuletide. The length of the season varies; growth in online shopping can skew results; Thanksgiving-weekend action often acts as a false tell; Hanukkah comes at a different time each year. Given the propensity of gift-card and return-driven shopping to spill over into January, we may not be able to reach a definitive conclusion about Christmas 2005 until February 2006.
But analysts at ISI Group think they may have hit on a reliable leading indicator of Christmas sales that they can measure in something close to real time. For the past three years, ISI has been tracking the weekly sales of Christmas trees and related yule products, like garlands and wreaths. "The idea for the survey came from a client who owned a big Christmas tree farm, who said his sales of trees fluctuate with the strength of the consumer," said analyst Oscar Sloterbeck.
Why might sales of trees be a leading indicator? While Christmas gift shopping goes on furiously right up to Christmas (and beyond), sales of Christmas trees are heavily front-loaded. "A lot of Christmas tree sales come in the early part of December," said Sloterbeck. "By the last week before the holidays there isn't much going on." If you haven't bothered to get a tree by Dec. 24, chances are you won't. Also, for many people, Christmas trees are the first seasonal purchase they'll make. So you'd expect that people in an expansive mood will a) splurge on a big tree and associated decorations; and b) continue to splurge at the mall and online. By contrast, people feeling pinched will spend minimally—first on a tree, and then on gifts.
This isn't a comprehensive or scientific survey. ISI touches base with 23 contacts at different points of the distribution chain in the United States and Canada: "regional Christmas tree associations, farmers, and retailers." ISI even queries some of the seasonal merchants who flock to the streets of Manhattan to peddle trees. Each week during the four-week season, ISI calls and asks its contacts to rate sales for the week compared with the previous year. In 2003, the ISI survey's first year, it didn't shine: It found weak Christmas tree sales, but holiday sales overall turned out to be strong. Last year, the survey was dead on: Weak early tree sales were followed by incredibly strong late tree sales, resulting in a very good year. Holiday sales overall in 2004, after starting slow, had a banner year. 
What is ISI finding so far for 2005? The Christmas tree season got off to a strong start. In the first week, sales were up 6 percent compared with a year ago, the strongest start in the three years ISI has been gathering the data. Even better, ISI concluded, "consumers do not seem to be too price-conscious." (Bonus: Fraser firs and Douglas firs are popular sellers.) Momentum grew in the second week, as sales rose 8 percent. The only downer: The Southeast was "a touch softer." For the third week, sales rose 9 percent compared with 2004. "Some participants commented that sales have been so strong that they are running out of trees earlier than normal." In other words, if tinseled firs possess oracular power, it's shaping up to be a Merry Christmas indeed.
---