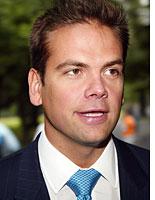 When Lachlan Murdoch, Rupert's 33-year-old son and heir apparent, announced last week he was quitting News Corp., his father, a man widely believed to possess no emotions, said he was "particularly saddened" by the decision. The press, by contrast, was particularly delighted, because nothing is better for newsstand sales than a squabbling family of billionaires. The press was also particularly confused. Early reports blamed Lachlan's departure on clashes with his father over management of the television station group (according to today's Wall Street Journal). Other theories:
—The family was fighting over how to include the children Rupert had with third wife Wendi Deng in the trusts that control the company.
—Lachlan's wife, model Sarah O'Hare, "is believed to prefer living in Sydney," as the Financial Times put it on Saturday.
—Or, as Johnnie Roberts of Newsweek suggested, perhaps 32-year-old James Murdoch, who runs the BSkyB business in Britain, has become the favorite son.
Whatever the reason, Lachlan Murdoch's departure is a warning for all family-controlled public companies. It's a sign of just how difficult—and increasingly unlikely—it will be for the young heirs to inherit the top jobs.
The persistence of family-controlled, publicly held companies, in which founding families either hold a majority of shares or a special class of stock that gives them extra voting rights, would seem to be an anachronism in today's age of shareholder democracy. After all, no geneticist would assert that the great-grandchildren of a 19th-century industrialist, or the children of a 20th-century media baron, automatically inherit management skills. And yet the practice persists at many large companies, particularly in the media industry. In the 1990s, Brian Roberts took the reins of cable giant Comcast from his father, Ralph Roberts, and Arthur O. Sulzberger Jr. succeeded his father at the New York Times Co. Slate's owner, the Washington Post Co., is run by Donald Graham, who inherited the top job from his mother, Katharine Graham.
But don't expect to see many more public dynasties. After the meltdowns and frauds of 2001-2002, investors are paying more attention to corporate governance. They are increasingly aware of how multigenerational family control can hurt shareholders. At Adelphia, two generations of Rigases drove the company into bankruptcy. At Cablevision, the conflict between father Charles Dolan and son James Dolan spilled out of the boardroom and into public view.
Demography is another reason dynasties will weaken, as News Corp.'s example shows. Rupert Murdoch, thrice-married and 74 years old, is a rather old dad. He was in his 40s when sons Lachlan and James, offspring of his second marriage, were born. He and third wife Wendi Deng have two preschool-aged girls. Murdoch is hardly alone among business big shots in having multiple sets of children, or in being an older father. But the age gulf means that children have less time to grow into roles at the company than they might have had in years past.
Lachlan came to work in the family business right after graduating from Princeton. He had 11 years of experience and was responsible for substantial News Corp. properties, including HarperCollins, the New York Post, and the U.S. television station group. But it's difficult to make the case that a 33-year-old, no matter how talented, is prepared to take the helm of a company as large and complex as News Corp.
Because the company grew more quickly than his children came of age, Murdoch hired and promoted a cadre of strong operating executives, like Fox News chief Roger Ailes and Chief Operating Officer Peter Chernin. The presence of such heavyweights, who built up independent power bases, presented a further obstacle to promoting the kids rapidly: If Chernin or Ailes felt slighted by the rise of an inexperienced family member, they might bolt.
As Murdoch's December-June romance shows—Wendi Deng is 36—there's another demographic trend that works against dynasties. Men and women are leading longer work lives. CEOs retire at 65 only when they have to. So, even if CEOs have time to shepherd sons and daughters through lengthy apprenticeships, there's no guarantee they'll get out of the way when the kids are ready to rule. Queen Elizabeth, still going strong at 79, has shown little sign that she's willing to cede the throne to 56-year-old Prince Charles.
Prince Charles can't get hired by any other monarchy. But the adult children of long-serving CEOs can leave, and they do. At AIG, Maurice "Hank" Greenberg brought his two sons, Jeff and Evan, into the company he regarded as a family business. But as they hit their 40s, and as it became clear to them that their father had no intention of leaving the executive suite alive, both sons left. Evan became CEO of insurer ACE Limited, and Jeff ultimately became CEO of Marsh & McLennan. (Like his father, Jeff Greenberg recently saw his career spiked because of an investigation by New York Attorney General Eliot Spitzer.)
Even if the child has an ample apprenticeship, and if the parent is willing to step down, heirs at public companies must climb higher barriers to reach the top spot today than they did 20 or even 10 years ago. Corporations are more complex than they ever have been. They're more likely to operate businesses in multiple sectors and in many different countries, to face brutal competition, and to come under pressure from activist investors. Given the stakes, it's difficult to justify handing off the reins to a son or daughter without undertaking an exhaustive search—even when the heir is qualified. Qualcomm CEO Paul Jacobs has something of a dream résumé. A Ph.D. in electrical engineering from Berkeley, he has spent 15 years working his way up the ladder at the company, spearheading vital projects and running key business units. And yet his promotion to CEO in July was regarded as controversial because he was succeeding his father, Qualcomm founder Irwin Jacobs.
Lachlan's departure is no great loss to the business side of News Corp. Chernin, Ailes, and other Murdoch lieutenants are extremely capable. But as entertainment, it's a tremendous blow. If Murdoch's kids were to stay, and were even half as smart and ruthless and controversial as their dad, News Corp. would be enthralling to watch for at least another generation.
---