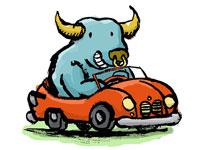 Back in 2000, when the office market was hot, companies weren't just scrambling for office space. They were scrambling for parking spaces, too. "The lack of parking was killing a lot of deals," said Ross Moore, research director at the real-estate firm Colliers International. "Garages were full up."
So, as any good research director would, Moore began an effort to systematically assess the state of the national parking market. For five years, he's been publishing an annual guide to the ins and outs of parking. If you want to know how much a monthly reserved spot in a covered garage in the Raleigh, N.C., central business district costs, check out Moore's 2005 North America CBD Parking Rate Survey.
But the survey doesn't simply tell you how much it costs to stow your SUV in a garage in Milwaukee for a day ($7). It can tell us something about what's going on in the economy—and about the relative health of the business and consumer sectors. Moore checks out the prices only once a year, but by keeping an eye on prices more frequently, sidewalk analysts might be able to get a leg up on some trends.
The survey charts several rates in 58 markets—monthly reserved and unreserved spots, and daily parking rates. Moore believes that the price for monthly spaces—occupied primarily by commuting workers—moves in sync with the health of the office market. But the daily rates—occupied by theatergoers and shoppers, tourists, people attending conferences, and roving consultants—generally track the health of the broader, consumer-based economy.
In 2002 and 2003, the parking rates showed the business sector to be weak and the consumer sector to be holding up. According to the 2003 report, between June 2002 and June 2003, unreserved monthly parking rates—the types that non-senior employees and managers might take—fell 7.4 percent. Reserved monthly rates and daily rates fell, too. But in 2004, as the recovery began to take root in the job market, all sectors bounced back modestly. In the last 12 months—a period of solid economic growth and continual job creation—unreserved rates were up a healthy 3.7 percent while daily rates shot up an exuberant 7.1 percent. (Signs of incipient inflation, anyone?)
While the year-to-year variation in a particular market may be tied to growth in the local economy, Moore notes the overall level of price is more connected to the supply of cheap land (or lack thereof). Parking is most expensive in coastal, older cities like New York, Boston, and San Francisco, and it's cheaper in Sunbelt sprawl-burgs like Phoenix and Dallas. The survey contains some surprises, though. Who would have thought it would be comparatively expensive to find a monthly spot in Hartford, Conn., whose central business district isn't exactly bustling? Or that car-dependent Atlanta would be a relatively cheap park?
Of course, the most expensive place to park in the country is midtown Manhattan: a median of $491.80 for an unreserved spot. But the surveys also bear witness to the astonishing resilience of lower Manhattan. After the shattering events of 9/11, parts of lower Manhattan became like a ghost town. As a result, in 2003, the average unreserved monthly spot went for a measly $300. In June 2005, however, the median unreserved monthly spot downtown cost $444.40. Another interesting tidbit: Today, 20.8 percent of garages offer additional services such as valet parking, car-washing, or dry cleaning.
Moore notes another trend that may be affecting rates in markets. Condominium development in downtown areas is bringing more people to central business districts. And many of the best development sites are former parking lots. "Even though we don't track surface parking lots, we're starting to lose some of it to condo development," said Moore. Since housing development is generally not accompanied by investments in public transit, the completion of all those new high-rises in places like Miami and Las Vegas is boosting demand for parking spots.
"Parking may be the perfect market," said Moore. "It's basic supply and demand." I'm not sure about "perfect." But Moore's survey is certainly a better barometer of the health of the parking economy than the other one we've had: the stock of Central Parking, which is to multilevel subterranean car warehouses what Starbucks is to coffee joints. (Central Parking has 3,400 parking garages in 37 states.) As the company's three-year chart shows, it has been performing poorly even as the economy has recovered.
Still, parking rates can make a good economic indicator. Parking is a highly competitive business with lots of pricing transparency—as with gasoline, the price is generally displayed on a large public sign. Managers and owners thus have the ability and incentive to react quickly to changed market conditions. As a result, a spurt in growth or a sudden downturn is more likely to show up at the parking garage more rapidly than it would in a GDP number or a company's quarterly earnings. If you see a rash of discounts on monthly reserved spots, it's a sign that companies in the area may be doing poorly. Or if daily prices spike in a garage attached to a downtown retail complex, it's probably good news for the companies inside.
---