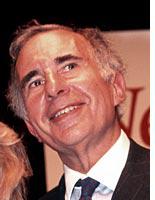 Is 80 the new 50?
Investing is typically thought of as a young man's game—the hot new tech company run by the 30-something wunderkind, the genius grad student who devised a market-beating software algorithm—but in recent weeks, it's become clear that the old guys are dominating today's market. There's the continuing fallout over  the defenestration  of Maurice Greenberg, the 80-year-old CEO of insurance giant AIG, and the associated tarnishing of 74-year-old Warren Buffett, still regarded as the world's greatest investor. Carl Icahn, 69, fresh off of browbeating oil-services company Kerr-McGee into returning cash to shareholders, last week won seats on the board of Blockbuster. Last Friday, he unveiled stakes in Rite Aid, Siebel Systems, and Hewlett-Packard. Icahn's a spring chicken compared with 87-year-old Kirk Kerkorian, whose tender offer for a chunk of General Motors captured headlines earlier this month. Septuagenarian Malcolm Glazer just took over Manchester United, perhaps the world's most celebrated sports franchise. And of course, markets around the globe eagerly anticipate every well-modulated word uttered by the chairman of the Federal Reserve, 79-year-old Alan Greenspan.
This isn't Wall Street, it's Cocoon.
In management, and investing, orthodoxy has long held that there is a direct correlation between age and competence. We all know that our faculties, energy level, and judgment tend to decline as we coast into senescence. That's one of the reasons many publicly held companies have mandatory retirement ages for CEOs and apply them even to icons such as Jack Welch.
The preference for youth over age would seem to be especially strong in today's investment industry, in which superhuman energy and intellect are required to stay on top. With so many young brains relentlessly seeking out inefficiencies, there wouldn't seem to be much of a place for seniors who still think BlackBerry is a flavor of jam.
Of course, anecdotal evidence proves that older CEOs can continue to manage—and micromanage—corporations well after they qualify for Social Security. And in investment management, 2005 could well turn out to be the year of the geezer.
The young guns at hedge funds are having a tough time: With the proliferation of funds and a stock market that is at once falling and not particularly volatile, money managers are finding it difficult to find an edge.
In some cases, the old guys are prospering at the kids' expense precisely because they're not part of the trendy young crowd. Take General Motors. Many hedge funds shorted the stock (after all, the company is faltering, and the stock might ultimately be worthless in a bankruptcy) while buying preferred shares or bonds (which pay hefty interest that the company is likely to be able to meet in the short term). Kerkorian ignored the crowd. He put in an above-the-market offer for the stock (thus screwing those who shorted the stock). At the same time the credit-rating agencies lowered ratings on GM's bonds, causing their value to fall.
Some very old investors also continue to thrive in difficult market conditions because it's an industry in which there is a huge survivorship bias. People who are still active as big-time investors in their 70s and 80s are exceptional for two reasons. First, it's an extraordinarily tough and grueling business that is more analogous to sports than to corporate management. It's difficult to maintain a high level of performance over a few decades, and a few bad years can end a career. So anyone who can survive for a generation must be really good. Second, because the compensation is so high, it's very tempting for those who have been successful to retire when markets turn difficult or when they start to sense mortality. People like Kerkorian and Buffett are thus endowed with a rare combination of investing skills and obsession.
That doesn't explain why investors like Kerkorian, Icahn, and Glazer are now wading into risky situations. Wouldn't it be easier to simply pick out some good hedge funds rather than try to turn GM around? Why should Glazer bother with trying to win over hordes of hostile British soccer fans when he could make plenty of money in quiet U.S. businesses?
Perhaps there's a geriatric counterpart to the Wall Street archetype of the young man on the make. Maybe old men have more biological reasons to be in a hurry. Kirk Kerkorian has to be aware that every deal could be his last. So why not swing for the fences?
For other old moneybags, getting involved in big deals at an advanced age may be a late chance to alter a popular perception. In the 1980s, Carl Icahn's efforts to enrich himself at the expense of other stakeholders garnered him a reputation as a greenmailer. But if Icahn hasn't exactly mellowed (Paul Kedrosky posted Icahn's performance on Blockbuster's conference call here), he has evolved. Icahn has become a prominent philanthropist, and his recent activism has tended to enrich all shareholders at the companies in which he becomes involved.
If the 1990s brought us the New Economy, this decade could revive the Old Economy—the Really Old Economy.
---