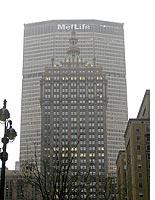 Everybody knows that in this hot real-estate market, it's better to be an owner than a renter. But some of America's biggest companies are selling their trophy homes and becoming tenants. Earlier this month, both Metropolitan Life and Verizon announced they were selling their massive headquarters buildings in New York.
Do these longtime owners know something we don't about the health of Gotham's frothy real-estate market?
Prices for commercial real estate in Manhattan have been rising, just like prices for apartments. And, as with co-ops and condos, cash from around the world is chasing expensive commercial space in New York. But the sell-offs by these two savvy blue-chips (and several others) don't necessarily signal an impending top in commercial real-estate prices. Rather, they are testament to something rare in American business: the sublimation of corporate egos to the balance sheet. Big, showy homes and big, showy offices were accoutrements of the imperial CEO of the 1990s. The new, humbler, shareholder-friendly CEOs may focus less on owning trophy properties than on simply getting the best deal they can for office space.
Corporate headquarters buildings have been status symbols for decades. But today, CEOs can maintain many of the benefits of ownership without the downside. If a company rents enough space from some anonymous professional landlord like Hines, it can keep its name on the building and keep the massive, tangential load of a skyscraper off its balance sheet. In early April, Met Life agreed to sell the Met Life Building (formerly the Pan Am Building) for a whopping $1.72 billion, which allows the company to notch a $750 million gain. But Met Life will still keep space for top executives in the convenient building, and the building's name will remain the same.
Many large companies now find themselves in the same position that elderly homeowners do. An asset they bought and paid for a long time ago has appreciated massively. But maintenance is a nuisance, and the old pile may have outlived its usefulness now that the kids are grown. At a time when incomes are no longer growing rapidly, the home office can be a huge untapped source of cash. When McGraw-Hill, the publisher of Business Week, sold its 45 percent interest in the McGraw-Hill Building for $450 million in December 2003, it booked a pretax gain of $131 million and freed up cash to invest in the business. The company is staying put, and the building will continue to be known as the McGraw-Hill building.
Because mergers, restructurings, and acquisitions can rapidly change the space needs of even the most-established companies, renting can offer significant advantages over owning. It's easier to sublease unwanted space than to sell it. And as companies continually diversify and rationalize, they try to keep the smallest number of people possible at the downtown headquarters. Verizon, now embroiled in the MCI takeover battle, earlier this month sold 80 percent of its 41-story headquarters building in midtown Manhattan for $505 million. Verizon is relocating top brass to extra space it has in a building it owns in lower Manhattan.
Corporate property owners are also capitalizing on the continuing boom in residential real estate. One of the most powerful economic truths in New York today is that high-end apartments—not offices—are the most economically efficient use for buildings in every part of town. In March, Met Life sold its old headquarters building as well, for $918 million. (The 1 Madison Ave. building, which Met Life owned for nearly a century, once held the distinction of being the world's tallest.) Its new owner, S.L. Green, run by the lesser-known and much-richer brother of 2001 Democratic mayoral candidate Mark Green, plans to turn a portion of the Met Life complex into condos.
Of course, not everyone is selling. Empire-builder Barry Diller has commissioned Frank Gehry to build a new headquarters for Interactive Corp. in Chelsea. Hearst Corp., realizing a long-suspended dream, is building a cool new Norman Foster-designed tower on Eighth Avenue *. And others are trading up. The New York Times Co. (one of my employers) is plowing a big chunk of the proceeds from selling its landmark headquarters on 43rd St. into a Renzo Piano showpiece around the corner. Bank of America, which last summer sold its 50 percent interest in the trophy Bank of America Center in San Francisco, is building a trophy tower in midtown Manhattan.
The decisions to construct these buildings were made a few years ago, before the new sales trend set in. And some savvy corporations that had planned to build are thinking twice about it, wondering if they can find a better use of cash than Manhattan real estate. Goldman Sachs, a firm regarded by many on Wall Street as the smartest of the smart money, last summer committed to build a new headquarters tower in lower Manhattan. But on April 5, the Wall Street Journal reported that Goldman wasn't going to build it after all. The same day, the Journal also reported that the investment bank had just snapped up a sleek corporate office tower in a different thriving business center—Shanghai.
Correction, May 4, 2005: The piece originally said that Hearst Corp. was erecting its new tower on Broadway. In fact, the building will be on Eighth Avenue.(Return to corrected sentence.)
---