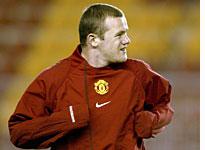 Malcolm Glazer, the billionaire corporate raider who owns the Tampa Bay Buccaneers, wants to buy Manchester United, the world's most famous and valuable soccer team and probably the world's most famous team of any kind.
Since he started buying chunks of Man U.'s publicly traded stock in the fall of 2003, Glazer has encountered enormous hostility from British media (here's a typically nasty piece), from Manchester United's board, and from the club's fans, who, according to the BBC "disrupted a game involving Manchester United's reserve team in protest" and vandalized "a car owned by a Manchester United director—who had reportedly sold his shares into the market, where they were subsequently bought by Mr Glazer." Glazer has managed to acquire about 28 percent of the team, which is worth $1.3 billion, and is angling for a controlling interest.
For a host of reasons, Glazer seems singularly unequipped to carry this off. His foreignness and Jewishness are not the problem. The British can be annoyingly patronizing toward American soccer fans (though the U.S. national team advanced as far in the 2002 World Cup as the English team did). But England's Premier League is a polyglot place, with owners, players, coaches, and fans from all over, including a small but growing cadre from the United States. Few Brits seriously objected last year when the Russian Jewish oligarch Roman Abramovich bought Chelsea, the cosmopolitan soccer club in London. No, Glazer's problems have more to do with his distinctively American style of doing business.
Glazer is a quick-buck artist. After buying the Tampa Bay Bucs and promising to kick in for the construction of a new stadium, he threatened to move the team unless the city paid for the whole thing. The ploy worked. In the late 1990s, his Zapata Corp., which had holdings in, among other businesses, fish protein, absurdly turned itself into an Internet incubator. The stock shot up briefly and then cratered.
And Glazer's NFL team is perceived in the United Kingdom not as an advantage—a mogul who owns one sports franchise might know how to run another—but as something slightly ridiculous. Man U. fans have had a fun time painting Glazer as the owner of a mediocre team in a grotesque sport that has the gall to call itself "football." And owning an NFL team is seen as nothing like owning a Premier League club. The NFL is socialism for billionaires, with revenue splitting and a salary cap. The enforced parity ensures that a few teams don't dominate the league year after year.
By comparison, British soccer is a class-based system. The clubs are sorted into different divisions. There is no salary cap. And the wealthiest and biggest clubs—Manchester United, Chelsea, Arsenal, and Liverpool—constitute a sort of permanent nobility.
The main stumbling block, however, is the way Glazer has proposed buying Man U. Despite his billion-dollar net worth, Glazer doesn't actually have the cash to buy the team. Essentially he wants to do a leveraged buyout and saddle the club with debt. Now, compared to their American cousins, the British have a great aversion to debt. The idea of a debt-ridden sports franchise is particularly distressing to a fan accustomed to seeing the highest-quality product. If revenues don't materialize as expected, teams with debt must sell off assets (players), cut costs (players' salaries), or raise prices (jacked-up tickets). In rejecting Glazer's offer on Oct. 25, the Manchester United board noted that "it would regard an offer which it believes to be overly leveraged as not being in the best interests of the Company."
A great deal of Manchester United's appeal as an asset is based on the devotion of its supporters (that's Britspeak for "fans"). Man U. is a global brand, far bigger than the Yankees, Dallas Cowboys, or Los Angeles Lakers. It's even making headway in the United States. For the past two summers, Manchester United has headlined a summer U.S. exhibition tour and has signed some American players. (Goalkeeper Tim Howard made a huge splash last year but has been unjustly relegated to the bench this year.) And in Europe, regardless of the ownership structure, teams are regarded as much the property of a community as of an individual. That's one of the reasons fan groups like the Independent Manchester United Supporters Association and Shareholders' United have objected to Glazer's bid, often in highly personal terms. Revered coach Sir Alex Ferguson apparently doesn't want Glazer either.
Most of all, though, the Brits don't like Glazer's manners. Essentially, he's now approaching Manchester United the way he would a Midwestern manufacturing company. After the board rejected his offer in October, Glazer lashed out. According to the Financial Times, he "vetoed the re-election of three of the club's board members, in retaliation for being unable to conduct due diligence on the club for a potential takeover bid." At that point, Glazer's financial adviser J.P. Morgan resigned, unwilling to be party to a hostile bid for the club.
The Redcoats seemed to have fended off the aggressive colonial for now. And, ultimately, Glazer may simply sell out his stock at a profit and retreat to Tampa. But soccer fans in the north of England shouldn't rest easy. The latest rumors have Robert Kraft, who owns the New England Patriots and the New England Revolution, interested in acquiring Liverpool.
---