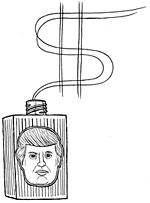 This holiday season, fragrance companies are literally trying to bottle and sell the aroma of multimillion dollar bonuses, private jets, and trophy babes. November saw the launch of both Donald Trump: The Fragrance and Wall Street, billed by its creator, Bond No. 9, as the "world's first financial fragrance."
But the notion that there is some correlation between wearing scents that reek of money and actually making money seems counterintuitive. My line of work and geographic location put me in contact with plenty of millionaires (and thanks to the underinvestment in the commuter rails and New York City subways, much closer contact than any of us would like). Not that I've sniffed too aggressively, but I've never noticed a distinct or recurring bouquet on any of them.
Nonetheless, for the sake of inquiry, I put the scents to a decidedly unscientific test in the marketplace of public nostrils.
Donald Trump: The Fragrance
Who is behind it? Aramis, an arm of savvy cosmetics giant Estée Lauder. We haven't seen it placed in the current season of The Apprentice because (shocker!) the series was filmed last summer.
The marketing pitch: Wear this "uncompromising scent," middle managers, and you can be like The Donald!—"elegant, masculine, and devastatingly sexy." The Trumpesque bottle—it's gilded and resembles a skyscraper—captures "Mr. Trump's unparalleled confidence, success and character." It is available exclusively at Federated Department Stores outlets like Bloomingdale's and Macy's. The cost: $60 for a 3.4-ounce bottle, or $282 a pound.
What Donald Trump the person smells like: No idea. Given his fear of germs, perhaps antibacterial soap?
What Donald Trump: The Fragrance is supposed to smell like: The first impression is fruits and vegetables. "Bright citrus notes are sparked with hints of refreshing mint. Cucumber notes, fluid and fresh, are complemented by crisp herbaceous accents of black basil." Next comes a "masculine blend of select green and aromatic notes" that includes extracts from "the sap of an exotic plant" and provides "warm woody undertones." And finally, "herbaceous [again!] and spicy notes drawn from different vetiver notes." (Vetiver is a wild grass found mostly in tropical locales.)
What the "Moneybox" apprentice (6-year-old daughter) says it smells like: women's perfume.
The effect: I open the vial, and the smell of bad debt and overpriced condos wafts through the air. I saunter down Fifth Avenue near Trump Tower, lips pursed, eyebrows fluffed up. Nobody really gets out of my way. But there are signs that the essence of Trump is seeping through my pores. I pass Tiffany's flagship store and begin to think about how I can barter media placement for a piece of expensive jewelry. Later, as I stop at a bakery to buy a baguette, a middle-aged woman steps aside to make room. Could she be paying deference to the stench of power? Possibly. More likely she was just angling to get a better look at the sourdough loaves.
Wall Street
Who is behind it: Bond No. 9, which is marketing a portfolio of fragrances based on Manhattan neighborhoods: Wall Street, Riverside Drive (hints of lox from Zabar's?), and Nouveau Bowery. (I don't even want to go there.)
The marketing pitch: Metrosexual financial wannabes with cash to burn who are in sync with lower Manhattan's "very up-to-date androgynous frisson" (?) and prefer class to Trump's mass. An exclusive product, Wall Streetis not "hooked up to any celebrity" and is available at Bond No. 9's stores and at tony Saks Fifth Avenue. The cost: $190 for 3.4 ounces, or $894 per pound. "This is the scent to start a bull market. Just be prepared for very friendly takeover bids." Bond No. 9 is giving a portion of the proceeds to lower Manhattan nonprofit Wall Street Rising.
What Wall Street the place really smells like: grilled hot dogs, exhaust from vehicles digging a trench on Broadway, cigarette smoke from the nicotine junkies huddled in doorways. And, in the summer, sweat from the traders who have to wear those jackets no matter how hot it is. Inside, it's not much better. If Wall Street trading floors smell like anything, it's stale food, flat soda, and testosterone—with overtones of tasteless jokes and conflicts of interest.
What they say Wall Street the fragrance really smells like: something quite similar to Trump: The Fragrance, actually. Its brisk top notes are redolent of "citruses, fresh cucumber, and sea kale accord—a reminder of New York harbor." The midnotes are drawn from the pistachio and bitter orange trees, and the base notes are "sexy musks, vetiver, and ambergris."
What the Moneybox apprentice says Wall Street smells like: carrots.
The effect: I apply the fragrance generously and feel self-conscious. Man enough? I meet with my agent, who says I look like I've lost weight. [But isn't it part of his job to pump up the fragile egos of schlumpy writers?—Ed.] Later, I conduct an interview with an executive whose net worth likely runs in the eight figures. I notice that he is not wearing any fragrance, though his suit is plainly much nicer than mine. The day brings no takeover bids, friendly or otherwise.
The ultimate conclusion:Of course, fragrances are meant to evoke images and fantasy. But it's clear that pricey scents aren't what Donald Trump and Wall Street titans plaster all over themselves to convey an aura of confidence, wealth, and frisson (androgynous or otherwise). Something tells me odorless brokerage statements and copies of the "Forbes 400"issue would be far more effective.
---