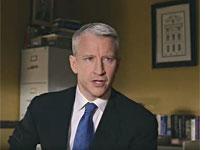 The Spot: Various CNN on-air personalities show up, for no apparent reason, at the workplaces of regular people. Here's Anderson Cooper at some schmo's desk. There's Lou Dobbs in some anonymous conference room. Wherever they go, the CNN anchors dispense headlines and stock quotes on command. (Click here to see the ads.)
This campaign is actually for CNN.com—not for the TV network. According to CNN, the original concept was basically just office workers at their desks interacting with the Web site. (And my, what a thrill ride that would have been.) It was the production company—a place called Hungry Man—that thought to spice things up by using CNN anchors and reporters in the spots.
No doubt things are spicier, but there's a drawback, too: Using the anchors confuses the message. When I see Anderson Cooper and Wolf Blitzer, I think of the TV network, not the Web site. CNN told me they anticipated this blurring effect and don't mind if the end result is really an umbrella campaign for the whole CNN brand.
I say if you're doing an umbrella campaign, then do it—don't waste your big guns (CNN's anchors are the best branding resource it has) on a mishmashed effort that's theoretically just about the Web site. But let's cut CNN some slack and treat this as an overall brand campaign. Because I think it's not successful on that score, either.
CNN's ads are very obviously inspired by the long-running "This is SportsCenter" campaign for ESPN's flagship highlight show. (Hungry Man was actually the production company behind the ESPN campaign, too.) In those ads, SportsCenter anchors spend their downtime around the network offices, surrounded by pro athletes, furry mascots, and college cheerleaders. NBA'er Grant Hill sets up a piano bar in the lobby. Pedro Martinez ices his elbow in the juice dispenser at the cafeteria.
The CNN ads reverse the concept, pulling the anchors out of their workplace and into yours. Message: CNN—represented by its stars—comes to you wherever you are. (Thus the awkward, slightly militaristic tag line: "The Power of CNN Under Your Command.") CNN realized there's a huge audience of people who (for the first time in history) are tracking the news all day long from their desks. This campaign tries to play up that relationship. (I do like that these ads are prominently featured on the CNN.com site, along with outtakes and behind-the-scenes stuff. Marketing to people at work is even better than giving them news.)
But as a branding effort for the network, these ads just aren't distinct enough. With the SportsCenter campaign, there's a compelling and constant theme: SportsCenter is the hub of the sports world—the place you go for total sports immersion. Or look at the ad ABC is now running for Peter Jennings. Jennings is in the newsroom, discussing his work, and the ad stresses solidity and dedication. Boring? Yes. But it's got a purpose.
By contrast, there's no clear message from CNN's spots. The ads convey the fact that you can read CNN at work. But in no way do they explain why CNN.com is any better than other news sites. (Assuming Paula Zahn won't really stop by my desk—preferably in one of those fetching, neutral-tone skirt suits—what can CNN.com offer that FoxNews.com can't?) Worse, the ads don't give the network any particular personality. The anchors seem afraid to cut loose (unlike the ESPN anchors), so the ads end up feeling bland. I'm told that Hungry Man is an outfit specializing in humor campaigns, but I found these spots wholly unfunny. Not a good laugh line in the bunch. I guess just getting the anchors out from behind their desks and into informal situations does humanize them a bit. But only Anderson Cooper shows any breakout acting chops. (He's got a real deadpan charm.) Lou Dobbs seems less appealing after I watched his spot. Such a funereal dude.
What's more, these ads actually insult the CNN audience. In one spot, Christiane Amanpour schoolmarmishly corrects a woman who can't pronounce Iraq and Iran, even after giving it several tries. In another, a woman ignores Lou Dobbs when she's distracted by Dr. Sanjay Gupta's cute, toothy smile. Shouldn't the campaign praise CNN viewers for being incredibly smart and well-informed?
CNN has trailed Fox News in TV ratings for a good long while now. As a countermeasure, they recently hired a new head of U.S. news operations. There's been talk of completely overhauling the prime-time schedule. Whatever they do, it's crucial for CNN to find some differentiating characteristic—some sort of personality that viewers can latch on to. This campaign won't do the trick. 
Grade: C+. Conflicted in conception, mediocre in execution.
---